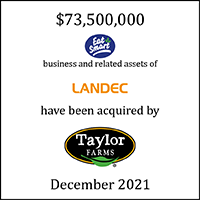 William Blair acted as the exclusive financial advisor to Landec Corporation (NasdaqGS: LNDC) on the divestiture of its Eat Smart business. The transaction announced and closed on December 13, 2021.
Transaction Highlights
Deep sector knowledge and buyer expertise: Landec was attracted to William Blair's extensive knowledge and experience advising companies in the branded and private label food & beverage space as well as the firm's strong relationships with likely strategic and financial acquirers.
Trusted guidance: The transaction team was integrally involved throughout each step of the process, collaborating closely with management and the transaction committee in analyzing strategic alternatives, developing marketing materials, coordinating due diligence, and thoughtfully determining process tactics and strategy.
Process and public company execution excellence: William Blair's significant public company advisory and M&A expertise was highly valued by Landec's transaction committee and management team, as they navigated their strategic alternatives as a public company. The transaction team provided valuable advice to the Board of Directors and management to help Landec achieve an attractive outcome for shareholders.
About the Companies
Landec Corporation is a leading innovator of diversified health and wellness solutions within the packaged natural food and CDMO markets operating through Curation Foods and Lifecore segments. The Curation Foods segment engages in processing, marketing, and selling of plant-based salads, and fresh-cut and whole processed vegetables primarily under the Eat Smart brand, O branded olive oils, and wine vinegars, Yucatan, and Cabo Fresh guacamole and avocado food products. Landec provides various private labels to retail grocery chains, club stores, and food service operators. In addition, Curation sells Breatheway packaging products.
Taylor Farms is a leading North American producer of salads and healthy fresh foods. Taylor Farms is grounded in a commitment to quality, innovation, sustainability, and food safety. Taylor Farms is family-owned and based in "The Salad Bowl of the World" Salinas, California.
Learn more about our consumer & retail investment banking expertise.