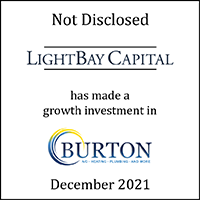 William Blair acted as the financial advisor to LightBay Capital in connection with its growth investment in Burton. Burton is a leading provider of HVAC, plumbing, and electrical services. The transaction closed on December 6, 2021 and marks William Blair's fourth residential services transaction closed in the last three months.
Transaction Highlights
Deep sector knowledge: LightBay Capital was attracted to William Blair's deep expertise with consumer and residential services businesses, recognizing William Blair's industry thought leadership and transaction experience in the sector.
Trusted guidance: LightBay Capital valued its longstanding relationship with William Blair and its track record in the consumer services category. In particular, the team provided value to LightBay through thoughtful perspectives around long-term macro trends within the broader HVAC, plumbing and electrical services categories, sector valuations, and the evaluation of M&A opportunities for Burton.
Competitive insights: William Blair's team worked closely with the LightBay team to provide thoughtful process tactics, strategic guidance, and relevant market insights throughout the process.
About the Companies
Burton is a leading HVAC, plumbing, and electrical services provider serving residential customers in growing markets throughout the Midwest and Central United States. The company has a portfolio of seven long-standing local brands with a presence across Nebraska, Wisconsin, Colorado, and Kansas. Burton is based in Omaha, Nebraska, and is led by Mark Evans, who has been involved with the company since 1995.
LightBay Capital is a Los Angeles-based growth-focused private equity firm that applies a flexible capital approach to middle-market investing. Primarily focused on the healthcare, consumer, and business services industries, LightBay invests across the capital structure and in all market environments to help accelerate the growth of high-quality companies.
Learn more about our consumer & retail investment banking expertise.