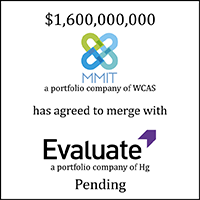 William Blair acted as exclusive financial advisor to MMIT, a portfolio company of Welsh, Carson, Anderson & Stowe (WCAS), in connection with its pending merger with Evaluate, a portfolio company of Hg Capital. The transaction announced on August 20, 2021.
Transaction Highlights
Sector expertise: MMIT and WCAS were attracted to William Blair's deep expertise in the life sciences IT space and understanding of MMIT's long-term strategic vision.
Highly strategic transaction: The transaction will enable MMIT and Evaluate to offer customers an end-to-end view of the pharmaceutical market landscape, allowing them to enhance high-value strategic portfolio decisions, assess unmet needs, evaluate barriers to access, and develop pricing strategies and value propositions to ensure that treatments get in the hands of patients.
Trusted M&A guidance: William Blair's deal team worked closely with MMIT's management and WCAS throughout each step of the transaction process, including performing detailed financial analyses, leading buyer outreach, coordinating due diligence and providing guidance on negotiations and overall process strategy.
About the Companies
For nearly two decades, MMIT has been a leading provider of market access data, analytics, and insights. MMIT's expert teams of clinicians, data specialists, and market researchers provide clarity and confidence so that clients can make better decisions. Divisions of MMIT include AIS Health, creator of the Directory of Health Plans and leading healthcare publications; Zitter Health Insights, provider of market access insights and solutions for specialty drugs; RJ Health, the market leader in pricing and coding solutions for infusion drugs covered under the medical benefit, and The Dedham Group, the preeminent U.S. market access oncology and specialty therapeutics consultancy.
Since 1996, Evaluate has provided the life sciences industry with the data, insight, and intelligence to facilitate confident decision making on high-value investments in treatments and markets. Evaluate enables clients to embed its proprietary & industry data into workflows, tools, and processes so they can work more effectively and efficiently.
WCAS is a leading U.S. private equity firm focused on two target industries: healthcare and technology. Since its founding in 1979, the firm's strategy has been to partner with outstanding management teams and build value for its investors through a combination of operational improvements, growth initiatives, and strategic acquisitions. WCAS has raised and managed funds totaling over $27 billion of committed capital.
Hg is a leading investor in software and services, focused on backing businesses that change how we all do business. Hg has funds under management of over $37 billion, with an investment team of over 140 professionals, plus a portfolio team of more than 35 operators, providing practical support to help our businesses to realize their growth ambitions. Based in London, Munich and New York, Hg has a portfolio of over 35 software and technology businesses, worth around $70 billion aggregate enterprise value, with over 50,000 employees globally, growing at over 20% per year.
Learn more about our healthcare IT investment banking expertise.