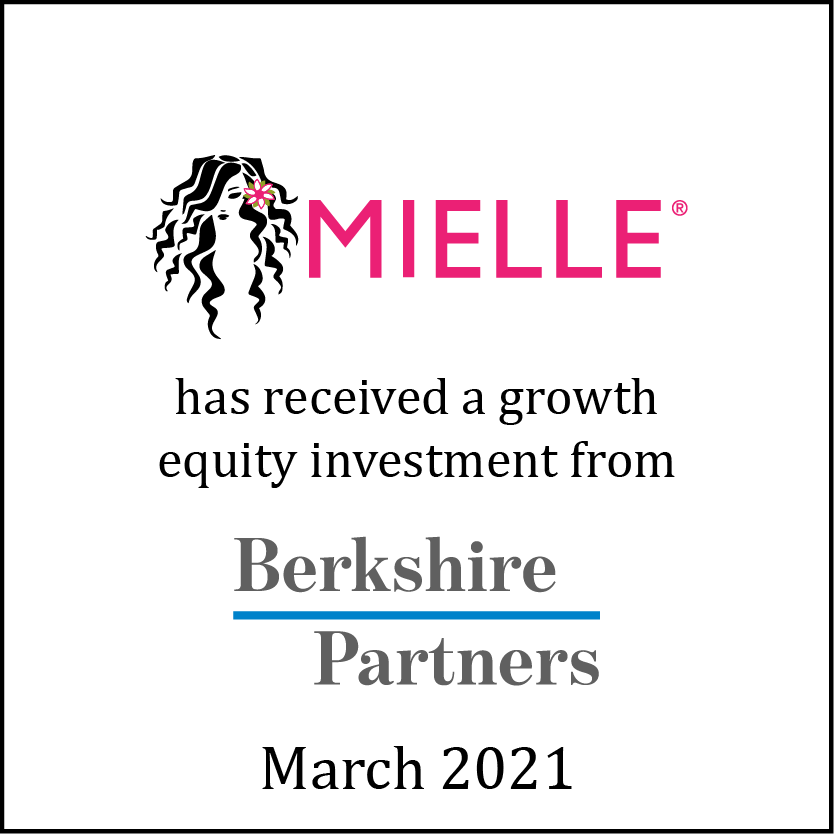 William Blair acted as the exclusive financial advisor to Mielle Organics in connection with the company receiving a growth equity investment from Berkshire Partners. Mielle Organics is the fastest growing, Black-owned and community-focused natural hair care company in the beauty category. As a digitally native brand, Mielle has built category-leading consumer engagement and a growing national distribution footprint with leading retailers across channels. A portion of Berkshire's investment will be used in support of Mielle's "More Than a Strand" program, which is core to the company's mission to strengthen the bond between mothers, daughters, and young girls across the United States, Caribbean, and Africa.
Transaction Highlights
Deep sector and product expertise: Mielle recognized William Blair's extensive knowledge and experience advising consumer products companies in the beauty sector, our ability to articulate compelling growth stories to investors, and our expertise in raising growth capital.
Unmatched sponsor relationships and insights: William Blair's highly relevant and unique insights with the most likely financial investors from the 2020 Private Equity Conference enabled the team to provide differentiated intelligence for a highly customized and efficient process.
Execution excellence leads to premium valuation: William Blair's team managed a highly competitive, accelerated process, driving an exceptional, pre-emptive outcome for Mielle, with Berkshire differentiating themselves through speed and expedited diligence.
About the Companies
Mielle Organics is a natural hair care and beauty brand that believes healthier ingredients encourage healthier hair and skin. Mielle Organics launched in 2014 with the creation of the first Mielle Organics product, the Advanced Hair Formula, a unique proprietary blend of herbs, amino acids, and minerals to support healthy hair, skin and nails, and immune system. Mielle products are Black-owned and CEO made and tested. Every product that leaves Mielle's facilities has been formulated and developed with a level of care and attention that is unmatched. Mielle is sold nationally at Sally Beauty, Target, Kroger, CVS, Walgreens, Walmart, Rite Aid, HEB, internationally in Europe and Africa, and online.
Berkshire Partners, a Boston-based firm, has 35 years of investment history. Berkshire Private Equity has made more than 130 private equity investments since its inception and has a strong history of partnering with management teams to grow the companies in which it invests. Stockbridge, the firm's public equity affiliate, was founded in 2007 and seeks to make public equity investments in high-quality companies with strong competitive positions and long-term growth prospects. Berkshire Partners has been an active investor in the consumer sector since its inception; example investments include Aritzia, Bare Escentuals, Coty, CrossFit, Kendra Scott, and Portillo's. Berkshire Private Equity has a flexible investment mandate and aims to invest $100 million to $1 billion in each portfolio company.
Learn more about our consumer and retail investment banking expertise.