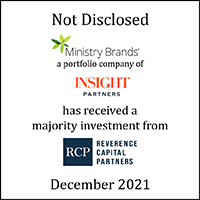 William Blair acted as lead financial advisor to Ministry Brands in connection with its majority investment from Reverence Capital Partners. Existing shareholders, including Insight Partners and Greater Sum Ventures, rolled equity in the transaction, which signed on November 4, 2021 and closed on December 30, 2021.
Transaction Highlights
Unparalleled industry insights and process excellence: William Blair's deep domain expertise across integrated software and payments, as well as its robust process preparation and tailored execution, created a successful outcome for existing stakeholders, including Ministry Brands' parent company, Community Brands.
Exceptional ability to execute a complicated process: The transaction team's expertise navigating complex carve-outs allowed William Blair to best position Ministry Brands, the leading provider of software and payments to faith-based organizations, as an attractive standalone entity.
Trusted relationships: William Blair's long-standing relationships with the financial sponsor community allowed William Blair to find the optimal partnership outcome for Insight Partners, Greater Sum Ventures, and Reverence Capital that met all stakeholder objectives.
About the Companies
Ministry Brands is the leading provider of SaaS and payments platforms for more than 95,000 churches, parachurch ministries, and other faith-based organizations in the United States and Canada. Under the leadership of the experienced management team, the company seeks to equip faith-based organizations with technology that empowers pastors, church executives, technology professionals, and administrators. Ministry Brands' suite of solutions includes church management, giving, accounting, mobile applications, website development, background checks, content, streaming, and messaging. The company was founded in 2012 and is based in Knoxville, Tennessee.
Reverence Capital Partners (RCP) is a private investment firm focused on thematic investing in leading global, middle-market Financial Services businesses through control and influence oriented investments in five sectors: Depositories and Finance Companies, Asset and Wealth Management, Insurance, Capital Markets and Financial Technology and Payments. The firm was founded in 2013 by Milton Berlinski, Peter Aberg, and Alex Chulack, and is located in New York, New York.
Learn more about our technology investment banking expertise.