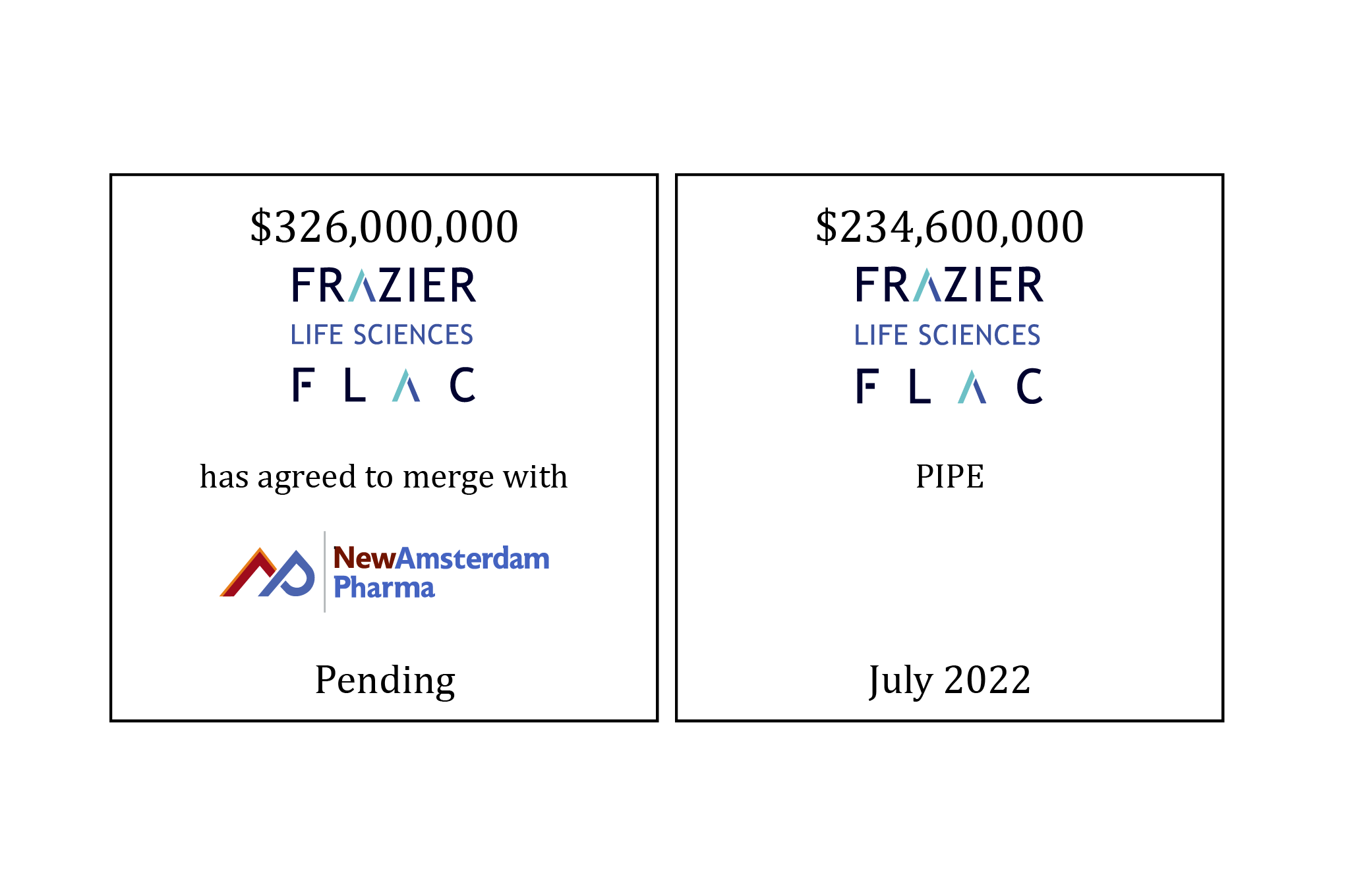 William Blair is acting as financial advisor, capital markets advisor and PIPE placement agent to Frazier Lifesciences Acquisition Corporation (NASDAQ: FLAC) in connection with its pending merger with NewAmsterdam Pharma Holding B.V. (NewAmsterdam) announced on July 25, 2022. As part of the business combination, premier healthcare institutional investors have committed $235 million through an oversubscribed PIPE led by Frazier Healthcare Partners and Bain Capital Life Sciences. The business combination will bring NewAmsterdam public at an enterprise valuation of $326 million with a total pro forma cash balance of at least $470 million. Upon completion of the transaction, which is expected to close in the second half of 2022, NewAmsterdam Pharma will be listed under the NASDAQ ticker symbol: NAMS.
About the Companies
NewAmsterdam Pharma is a private clinical-stage biopharmaceutical company whose mission is to improve patient care in populations with metabolic diseases where traditional therapies have not been sufficiently successful or well-tolerated. NewAmsterdam is investigating obicetrapib, a next-generation oral, low-dose and once-daily CETP inhibitor, as the preferred LDL-C-lowering therapy for high-risk cardiovascular disease ("CVD") patients. Results from NewAmsterdam's ROSE Phase 2b trial (presented at AHA Scientific Sessions in 2021) included observations that patients receiving obicetrapib 10mg experienced reduced LDL-C by 51% versus baseline in patients on statin therapy (vs. a 7% reduction in the placebo arm). Based in the Netherlands, the Company was founded in 2019 by the venture capital firm Forbion and John Kastelein, Chief Scientific Officer of the Company, and closed a $196 million (€160 million) Series A financing in January 2021 led by Forbion, Morningside Ventures and Ascendant BioCapital. In June 2022, the Company entered into an exclusive licensing agreement with the Menarini Group for the commercialization of obicetrapib in Europe, while retaining all rights to commercialize obicetrapib, if approved, in the rest of the world, as well as rights to develop certain forms of obicetrapib for other diseases such as Alzheimer's disease.
FLAC is blank check company incorporated as a Cayman Islands exempted company in October 2020 for the purpose of effecting a merger, share exchange, asset acquisition, share purchase, reorganization or similar business combination with one or more businesses or entities. FLAC was formed to leverage the extensive experience and track record of its management team with the goal of financing a company that can both develop transformative therapies for patients in need and deliver significant returns to its investors.
Frazier Healthcare Partners is a leading provider of private equity capital to healthcare companies. With more than $8.1 billion total capital raised, Frazier has invested in more than 200 companies with transaction types ranging from buyouts of profitable healthcare companies to venture capital and company creation. Frazier has a philosophy of partnering with strong management teams while leveraging its internal operating resources and network to build exceptional companies. Frazier has offices in Seattle, Washington, and Menlo Park, California, and invests broadly across the U.S., Canada and Europe.
Learn more about our biopharma investment banking expertise.