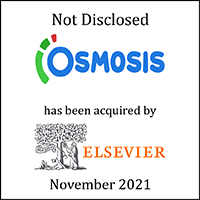 William Blair acted as exclusive financial advisor to Knowledge Diffusion, Inc. (Osmosis) in connection with its sale to Elsevier, part of RELX. The transaction closed on November 23, 2021.
About the Companies
Osmosis is a leading health education platform serving millions of current and future healthcare professionals, their patients, and the general public. The company's engaging healthcare content bridges the gap from lectures to learning with more than 2,000 videos designed to catch the eye, simplify complex topics, and improve comprehension and retention. Osmosis serves over 2 million learners across all 195 countries and drives significant impact across the healthcare and education fields.
Elsevier is a global leader in information and analytics. The company helps researchers and healthcare professionals advance science and improve health outcomes for the benefit of society by facilitating insights and critical decision-making for customers across the global research and health ecosystems.
RELX is a global provider of information-based analytics and decision tools for professional and business customers. The group serves customers in more than 180 countries and has offices in about 40 countries. It employs over 30,000 people, of whom almost half are in North America. The shares of RELX PLC, the parent company, are traded on the London (REL), Amsterdam (REN), and New York (RELX) Stock Exchanges.
Learn more about our tech-enabled services and healthcare services investment banking expertise.