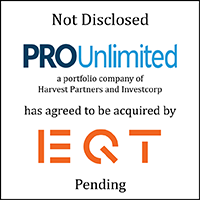 William Blair acted as the lead financial advisor to PRO Unlimited (PRO), a portfolio company of Harvest Partners and Investcorp, in connection with its pending sale to EQT Partners. The transaction was announced on June 28, 2021 and is expected to close in the third quarter of 2021.
Transaction Highlights
Breadth and depth of industry expertise: The transaction team's unrivaled domain expertise within the software and tech-enabled services ecosystem allowed William Blair to articulate a powerful growth story, create a unique process strategy, and offer a deep understanding of buyer priorities.
Leading M&A process capabilities: William Blair constructed and managed an accelerated, high-touch process with a targeted and carefully curated group of financial investors, successfully utilizing speed and certainty to generate significant competitive tension.
Trusted guidance: The transaction team worked closely with PRO and Harvest Partners throughout the process to provide critical insights and to successfully position the company as the clear market leader with a differentiated and evolving platform ready to further capitalize on industry tailwinds.
About the Companies
PRO Unlimited is the premier modern workforce management platform, offering world-class services supported by data, software, and intelligence to meet their clients' flexible workforce needs. PRO's platform provides the speed, scale, flexibility, transparency, and expertise needed to serve as the holistic platform for the modern workforce. Based in San Francisco, PRO has served hundreds of the world's most recognizable global brands and organizations, helping them achieve operational and financial success for more than 30 years.
Founded in 1981, Harvest Partners, LP is an established New York-based private equity investment firm that focuses on investments in middle-market companies in the business services & industrial services, consumer, healthcare, industrials, and software industries. Harvest's control strategy leverages the firm's 40 years of experience in financing organic and acquisition-oriented growth.
For over 35 years, Investcorp has been a leading global manager of alternative investments with six lines of businesses, including: private equity, real estate, absolute return investments, infrastructure, credit management, and strategic capital. Since inception, Investcorp has completed approximately 70 transactions in North America, deploying more than $22 billion in transaction value.
EQT is a purpose-driven global investment organization with more than €67 billion in assets under management across 26 active funds. EQT funds have portfolio companies in Europe, Asia-Pacific, and the Americas with total sales of approximately €29 billion and more than 175,000 employees. EQT works with portfolio companies to achieve sustainable growth, operational excellence, and market leadership.
Learn more about our tech-enabled services and technology investment banking expertise.