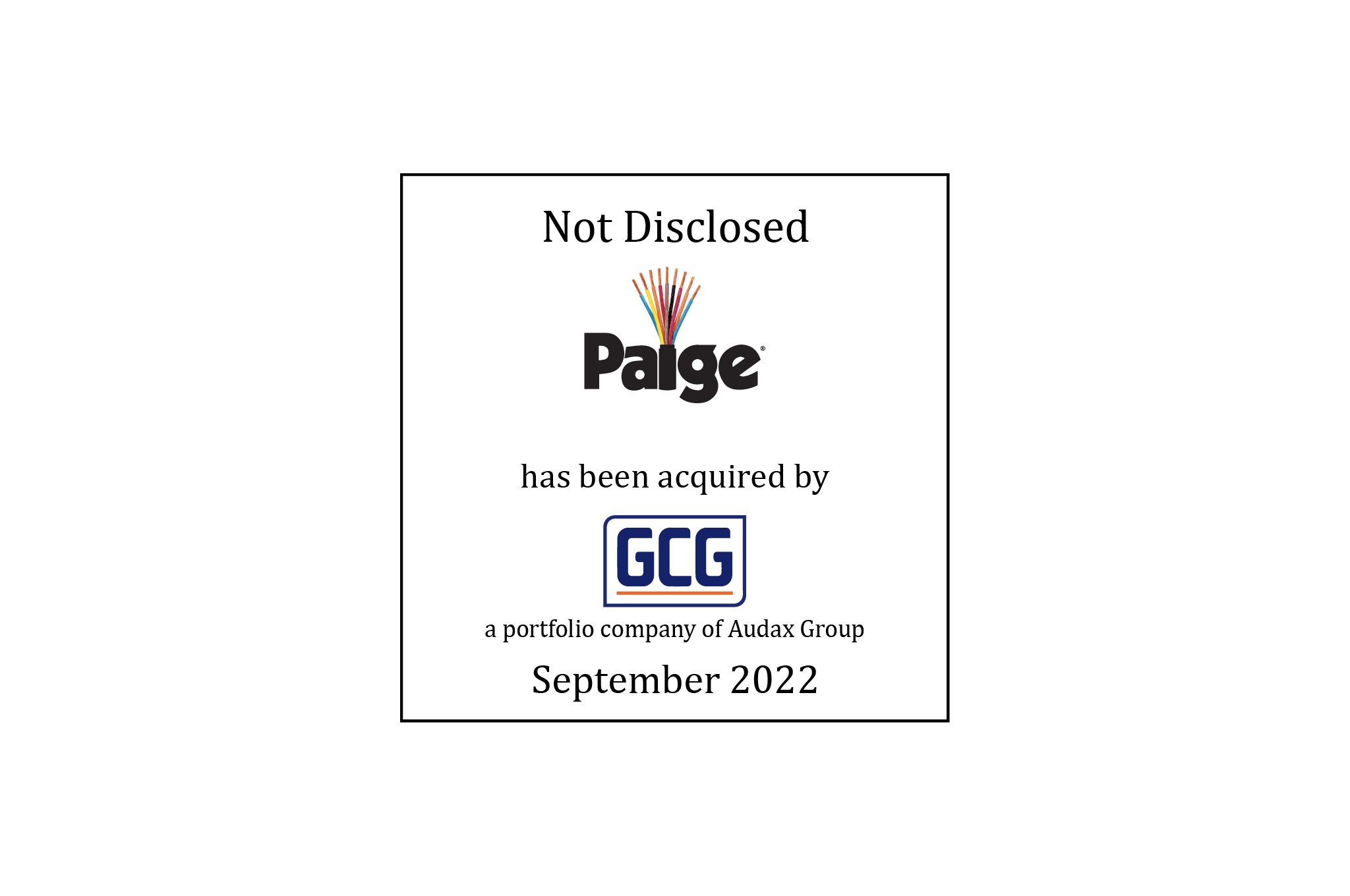 William Blair acted as the exclusive financial advisor to Paige Electric Corporation (Paige) in connection with its sale to Genuine Cable Group, a portfolio company of Audax Group. The transaction closed on September 6, 2022.
About the Companies
Founded in 1958 in New Jersey, Paige is a leading value-added distributor of wire and cable products for a broad set of OEM, distributor, and dealer customers across diverse end markets such as irrigation, precision agriculture, industrial, renewable energy, data communications, pump, signage, and HVAC. The Company has evolved into a full-service solutions provider with engineering capabilities, highly knowledgeable sales leaders organized by specific end markets, a range of Company-designed, difficult-to-replicate products, and a network of strategically located, North American facilities. Investments in systems, personnel, and vendor diversification have further catalyzed sustainable growth for the Company. Paige is led by a deep and talented management team with over 100 combined years of experience in the wire and cable industry.
Genuine Cable Group is a leading value-added provider of wire, cable and automation solutions for customers across a wide spectrum of markets, including industrial automation, building infrastructure, communications and industrial OEM. In addition to these core offerings, Genuine Cable Group also has cable assembly operations and can leverage its unique national footprint to provide unrivaled service to customers across its diverse end markets.
Audax Group is a leading alternative investment manager with offices in Boston, New York, and San Francisco. Since its founding in 1999, the firm has raised over $30 billion in capital across its private equity and private debt businesses. Audax Private Equity has invested over $9 billion in 150 platforms and over 1,050 add-on companies, and is currently investing out of its $3.5 billion, sixth private equity fund. Through its disciplined Buy & Build approach, Audax Private Equity seeks to help platform companies execute add-on acquisitions that fuel revenue growth, optimize operations, and significantly increase equity value. With more than 300 employees, Audax is a leading capital partner for North American middle-market companies.
Learn more about our supply chain, commercial services & technologies investment banking expertise.