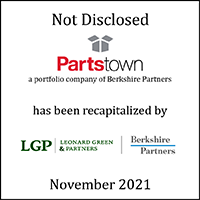 Parts Town, LLC (Parts Town or the company), a portfolio company of Berkshire Partners, recently completed a recapitalization of the business in partnership with management and Leonard Green & Partners (LGP). Berkshire Partners will retain its majority stake in the company. These investments will enable Parts Town to accelerate innovation across its supply chain, distribution and ecommerce operations while further investing in its team to drive sustained high growth. Terms of the transaction were not disclosed.
Based in Addison, Illinois, Parts Town is the technology innovator and market-leading distributor of OEM foodservice equipment parts. The company has grown from five team members in 2003 to over 2,500 employees today with over $1 billion in annual revenue – driven by 18 years of continued technological innovation. Partnering with over 1,100 leading manufacturers, Parts Town improves the supply chain, increases sales of genuine OEM parts, and keeps every customer's business running like clockwork.
Berkshire Partners, a Boston-based firm, has 35 years of investment history. Berkshire Private Equity has made more than 135 private equity investments since its inception and has a strong history of partnering with management teams to grow the companies in which it invests. The firm has partnered with high-potential businesses for many decades, focusing on the technology, services, industrials, consumer, communications, and healthcare sectors.
Leonard Green & Partners is a leading private equity firm with over $50 billion of assets under management. LGP, founded in 1989, has invested in over 100 companies in the form of traditional buyouts, going-private transactions, recapitalizations, growth capital investments, corporate carve-outs and selective public equity and debt positions. Located in Los Angeles, LGP invests in established companies that are leaders in their markets.
Learn more about our technology and supply chain, commercial services and technologies investment banking expertise.