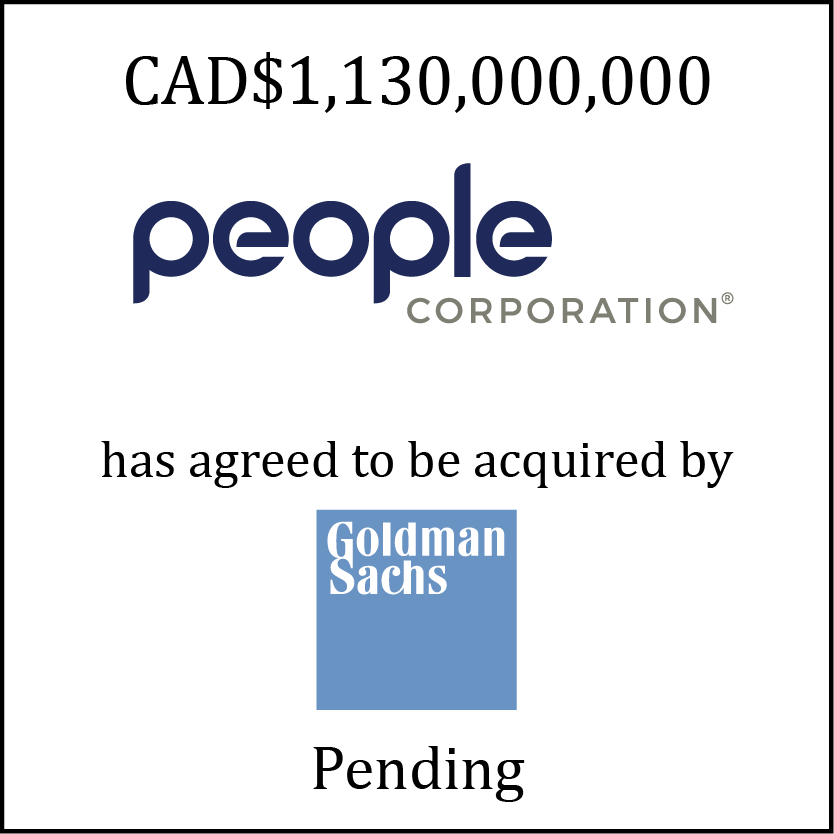 William Blair acted as the financial advisor to People Corporation (TSX Venture: PEO) in connection with its pending take-private sale to Goldman Sachs Merchant Banking. The transaction was signed on December 13, 2020 and is expected to close in Q1 2021.
Transaction Highlights
Deep sector knowledge and M&A expertise: People Corporation was attracted to William Blair's deep institutional knowledge at the intersection of insurance, employee benefits, and healthcare, thorough understanding of its business model, and recent experience running processes for comparable businesses in this sector.
Trusted guidance: The transaction team was integrally involved throughout each step of the transaction process, collaborating closely with management and the Special Committee in analyzing strategic alternatives, developing marketing materials, coordinating due diligence, and thoughtfully determining process tactics and strategy.
Process and execution excellence: William Blair's significant public company advisory and M&A expertise was highly valued by People Corporation's Special Committee and management team, as they navigated their strategic alternatives as a public company and confidentiality was paramount.
About the Companies
People Corporation is a leading provider of group benefits, group retirement, and human resource services with approximately 1,100 talented professionals serving organizations across Canada. Bringing deep industry and subject matter expertise, proprietary technology platforms and an innovative suite of services to each client engagement, People Corporation delivers uniquely valuable insights and solutions to make a positive difference to their clients' people and bottom line.
Founded in 1869, The Goldman Sachs Group, Inc. is a leading global investment banking, securities and investment management firm. Goldman Sachs Merchant Banking Division (MBD) is the primary center for the firm's long-term principal investing activity. MBD is one of the leading private capital investors in the world with investments across private equity, infrastructure, private debt, growth equity, and real estate.