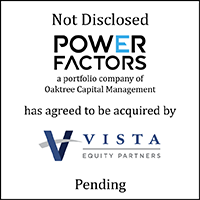 William Blair acted as the lead financial advisor to Power Factors LLC (Power Factors), a portfolio company of Oaktree Capital Management (Oaktree), in connection with its pending acquisition by Vista Equity Partners (Vista). The transaction was announced on July 27, 2021 and is expected to close in the third quarter of 2021.
Transaction Highlights
Breadth and depth of industry expertise: The transaction team's unrivaled domain expertise within the software ecosystem allowed William Blair to articulate a powerful growth story, create a unique process strategy, and offer a deep understanding of buyer priorities.
Trusted guidance: William Blair was integrally involved in every step of the transaction process, including close collaboration with the management team and Oaktree in crafting the growth story, streamlining the due diligence process, and negotiating key contract terms.
Process and execution excellence: The transaction team designed and managed a highly competitive, rapid process, achieving a highly successful outcome for the shareholders.
About the Companies
Power Factors provides scalable, reliable performance management solutions to over 200 utility-scale owners, operators and independent power producers, and monitors over 110 gigawatts of wind, solar and energy storage assets worldwide. Their mission is to deliver software and services to make renewable energy the world's leading power generation source. Power Factors consolidates multiple operational data sources, asset hierarchies, and metadata frameworks to create a single cloud-based remote asset management platform that works with today's large-scale portfolios. With embedded connections to maintenance workflows, Power Factors streamlines process, reduces costs, and increases ROI of assets.
Oaktree is a leader among global investment managers specializing in alternative investments, with $148 billion in assets under management as of December 31, 2020. The firm emphasizes an opportunistic, value-oriented, and risk-controlled approach to investments in credit, private equity, real assets, and listed equities.
Vista is a leading global investment firm with more than $77 billion in assets under management as of March 31, 2021. The firm exclusively invests in enterprise software, data and technology-enabled organizations across private equity, permanent capital, credit, and public equity strategies, bringing an approach that prioritizes creating enduring market value for the benefit of its global ecosystem of investors, companies, customers and employees. Vista's investments are anchored by a sizable long-term capital base, experience in structuring technology-oriented transactions and proven, flexible management techniques that drive sustainable growth.
Learn more about our technology investment banking expertise.