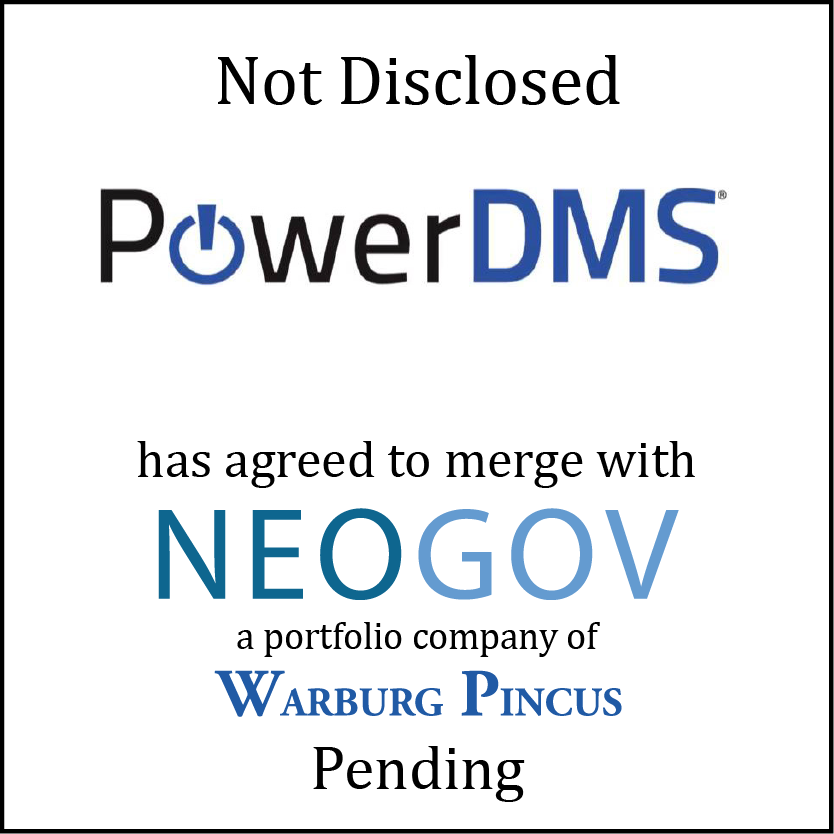 William Blair acted as the exclusive financial advisor to PowerDMS, a portfolio company of Frontier Growth, in connection with its pending merger with NEOGOV, a portfolio company of Warburg Pincus. The transaction signed on November 23, 2020 and is expected to close in December 2020.
Transaction Highlights
Longstanding sponsor and company relationships: Frontier Growth selected William Blair due to the trusted partnership the transaction team has fostered through multiple successful transactions as well as a strong relationship with the PowerDMS management team from a prior transaction.
Unrivaled domain expertise: PowerDMS and Frontier Growth were attracted to William Blair's unparalleled expertise in the compliance sector and in vertical software, particularly GovTech, as well as a track record of selling leading, high quality SaaS businesses.
Trusted guidance and strategic M&A expertise: William Blair guided PowerDMS and Frontier Growth through a highly bespoke merger with NEOGOV, providing exceptional transaction and reverse diligence acumen to achieve an optimal outcome for shareholders and management.
About the Companies
Founded in 2001, PowerDMS offers a cloud-based compliance management platform that helps users reduce risk and liability, protect reputation, increase efficiency, and save lives. The company provides software tools to organize and manage an organization's critical documents and industry accreditation standards and allows for training and testing of employees. Most of over the 4,000 PowerDMS customers represent high-risk industries with compliance requirements in the healthcare, government, and commercial sectors.
NEOGOV is the leading provider of an integrated HR, payroll, and talent management solution for the public sector. NEOGOV customers report increased employee productivity and engagement, time and cost savings, improved regulatory requirement compliance, and reduced paper processes, with a net result of better services for citizens. Serving over 6,000 organizations, NEOGOV supports organizations with intelligent HR for the public sector.
Learn more about our technology investment banking expertise.