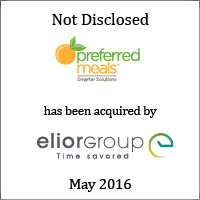 William Blair acted as the exclusive financial advisor to Preferred Meals, a portfolio company of Swander Pace Capital, in connection with its sale to Elior Group (ENXTPA: ELIOR). The transaction closed on May 31, 2016.
Transaction Highlights
Deep relationships and sector expertise:Swander Pace Capital and Preferred Meals were attracted to William Blair's extensive knowledge and experience in the food and beverage sector, recent transaction experience, and strong relationships with likely strategic and financial acquirers worldwide.
Trusted guidance: William Blair's deal team was integrally involved in each step of the transaction process and facilitated an exceptional outcome for Preferred Meals' shareholders.
Highly strategic acquisition: The acquisition of Preferred Meals expands Elior Group's presence in North America and enhances its production capabilities and distribution channels, particularly across the education and senior foodservice channels.
About the Companies
Preferred Meals, based in Berkeley, Illinois, is a full-service provider of meals, fresh-prepared snacks and frozen-prepared snacks, entrees, and complete meals for contract catering and home delivery.
Swander Pace Capital is a leading private equity firm specializing in investments in growth-oriented, and lower-middle-market consumer products companies.
Elior Group, based in Paris, France, is one of the world's leading operators in the catering and support services industry, and is a benchmark player in the business and industry, education, healthcare, and travel markets.
More about our consumer and retail investment banking practice