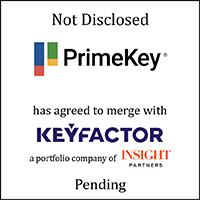 William Blair acted as the exclusive financial advisor to PrimeKey, a portfolio company of Pomona Group, in connection with its pending merger with KeyFactor, a portfolio company of Insight Partners. The transaction was signed on 19 March 2021 and is expected to close during Q3 2021, subject to regulatory approval in Sweden.This transaction represents the fifth time William Blair has sold a company to Insight Partners.
Transaction Highlights
Deep sector expertise and relationships: William Blair was selected based on its extensive knowledge and transaction experience advising Enterprise IT and Security companies, and longstanding relationships with most likely strategic and financial buyers.
Execution excellence leading to outlier outcome: William Blair's expert process management tactics in dealing with a pre-emptive bidder resulted in a highly efficient and rapid process, ultimately leading to an outlier outcome in less than 5 weeks from the date of engagement.
Highly strategic transaction: The transaction will enable KeyFactor to secure leadership market positioning building upon core PKI capabilities, deep CA knowledge and full product lifecycle solutions.
About the Companies
PrimeKey is one of the world's leading companies for PKI solutions, having developed over the years successful technologies, such as EJBCA® Enterprise, SignServer Enterprise and PrimeKey® EJBCA Appliance. PrimeKey is a pioneer in open source security software providing businesses and organizations around the world with the ability to implement security solutions, such as e-ID, e-Passports, authentication, digital signatures, unified digital identities and validation.
Keyfactor is the leader in cloud-first PKI as-a-Service and crypto-agility solutions. Its Crypto-Agility Platform empowers security teams to seamlessly orchestrate every key and certificate across the entire enterprise. With decades of cybersecurity experience, Keyfactor is trusted by more than 500 enterprises across the globe.
Pomona Group is a family-owned development and investment company. Established in 1986, it invests in family owned businesses promoting long term sustainable growth.
Insight Partners is a leading global venture capital and private equity firm investing in high-growth technology and software companies. Founded in 1995, Insight Partners has invested in more than 400 companies worldwide and has raised more than $30bn in capital commitments.
Learn more about our technology investment banking expertise.