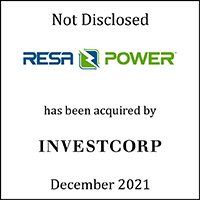 William Blair acted as lead financial advisor to RESA Power (RESA or the company), a portfolio company of Blue Sea Capital, in connection with its sale from Blue Sea Capital to Investcorp. The transaction closed on December 15, 2021.
Transaction Highlights
Leading power and utilities sector expertise: RESA Power and Blue Sea Capital were attracted to William Blair's knowledge and experience in the power & utility services space, understanding of and appreciation for the RESA story, and strong relationship with Blue Sea Capital.
Strategic positioning: William Blair crafted a process that highlighted RESA's position as a leading provider of mission-critical power services, providing buyers with a deep understanding of their core service offerings, and channels for future growth.
Exceptional process execution: The transaction team worked closely with management and Blue Sea Capital throughout the process, providing thoughtful process guidance and strategic advice in relation to marketing materials, positioning, diligence, and potential partners. The team was able to execute a streamlined and efficient process to drive an exceptional outcome.
About the Companies
Based in Houston, Texas, RESA Power is a premier, national provider of mission-critical solutions that enhance the safety, reliability, operability, life and efficiency of customers' installed base of vital electrical power systems. The company employs over 165 technicians across 21 locations within the United States and Canada. A leader in the power services market, RESA provides field services, systems design, engineering, installation and integration services, and specialty distribution of hard to find and vintage power system equipment parts. A fully integrated platform with powerful reporting tools and an impressive track record of M&A execution, RESA is well poised for future growth and expansion across their core market.
Investcorp is a global investment manager with over $37 billion in total AUM, including assets managed by third-party managers, specializing in alternative investments across private equity, real estate, credit, absolute return strategies, GP stakes, and infrastructure. Since its inception in 1982, Investcorp has focused on generating attractive returns for our clients while creating long-term value in its investee companies and for its shareholders as a prudent and responsible investor.
Learn more about our supply chain, commercial services & technologies investment banking expertise.