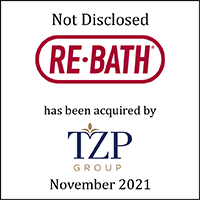 William Blair acted as the exclusive financial advisor to Home Brands Group Inc., the parent holding company of Re-Bath, a portfolio company of Webster Equity Partners (Webster) and Sorenson Capital (Sorenson), in connection with its sale to TZP Group LLC. Re-Bath is the nation's largest complete bathroom remodeling franchise, supported by a trusted brand built by providing expert, affordable, and effortless bathroom remodeling solutions. The transaction closed on November 8, 2021 and marks William Blair's third residential services transaction announced in the last three months.
Transaction Highlights
Unmatched sector expertise drove differentiated positioning: Re-Bath recognized William Blair's extensive knowledge and experience advising leading consumer and residential services businesses. The transaction team effectively focused investors on the superior customer experience, large and fragmented addressable market, the sustainability of consumer demand, and an actionable growth plan with multiple levers for continued growth.
Deep buyer relationships and insights: William Blair's highly relevant and unique insights with the most likely financial investors and insights gained from the 2020 Private Equity Conference enabled William Blair to provide differentiated intelligence for an efficient process.
Highly successful outcome: The transaction team guided management through a highly effective marketing process, resulting in multiple actionable final proposals, ensuring an exceptional valuation and outcome for shareholders.
About the Companies
Re-Bath is the nation's largest complete bathroom remodeling franchise that has grown to more than 100 locations across the country. The company offers complete bathroom remodels, tub and shower updates, plus aging and accessibility solutions. Re-Bath is a one-stop service that covers the entire process – from design to done – in three easy steps: consultation, removal, and installation. Re-Bath assembles its own exclusive line of products at its headquarters located in Phoenix, Arizona.
Founded in 2003, Webster Equity is a private equity firm that focuses on high impact growth strategies that deliver optimal outcomes for their investors and portfolio companies. Webster is currently investing its fourth fund and has raised over $875 million of capital to invest in healthcare services and branded consumer companies.
Sorenson Capital is a leading growth and venture capital investment firm focused on enterprise software. Sorenson has a nearly two-decade track record of backing transformational technologies and best-in-class entrepreneurs. Sorenson Capital has more than $1 billion in capital under management and was founded in 2002.
TZP Group, a multi-strategy private equity firm managing approximately $2 billion across its family of funds is focused on control, growth equity, and structured capital investments in business services and consumer companies. Founded in 2007, TZP targets companies with solid historical performance and sustainable value propositions and aims to be a "Partner of Choice" for business owners and management teams.
Learn more about our consumer and retail investment banking expertise.