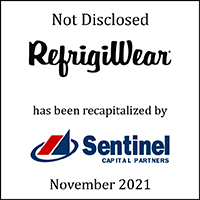 William Blair acted as the exclusive financial advisor to RefrigiWear in connection with its recapitalization by Sentinel Capital Partners. RefrigiWear is the market-leading brand in cold weather workwear, providing mission-critical products to B2B food, B2B outdoor, and DTC channels, resulting in over 10 years of consistent growth. The transaction closed in November 2021.
Transaction Highlights
Unmatched sector expertise drove differentiated positioning: RefrigiWear recognized William Blair's extensive knowledge and experience advising leading specialty workwear and performance-driven branded businesses. The transaction team effectively focused investors on the company's compelling value proposition, the sustainability of market demand and performance, and an actionable growth plan with multiple levers for continued growth.
Deep buyer relationships and insights: The transaction team designed a competitive process targeting the most relevant buyers. William Blair's exceptional relationships with consumer and specialty distribution investors, along with a tailored, high-touch approach, yielded competition with many engaged parties throughout the process.
Highly successful pre-emptive outcome: The transaction team guided management through a bespoke and effective marketing process, resulting in an actionable final proposal at the initial bid date, ensuring an exceptional valuation and outcome for shareholders.
About the Companies
RefrigiWear is a family-owned, leading workwear brand providing need-based, mission critical products protecting workers in all major cold weather industries since its founding in 1954. RefrigiWear delivers head-to-toe protection for everything from light wind and rain down to frigid -60° weather. The company's value proposition goes well beyond the product, delivering on unmatched customer service, new product development, and highly customized solutions.
Sentinel Capital Partners is one of the nation's leading lower midmarket private equity firms. The firm invests in management buyouts, acquisitions of family businesses, corporate divestitures, industry consolidations, and going-private transactions in the United States and Canada. Sentinel also invests in special situations, including balance sheet restructurings and operational turnarounds. The firm forges partnerships with talented management teams who want to be owners of the companies they operate. Based in New York City, Sentinel has raised approximately $6 billion of capital since inception.
Learn more about our consumer & retail and supply chain, commercial services & technologies investment banking expertise.