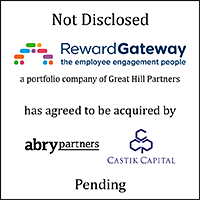 William Blair acted as the exclusive financial advisor to Reward Gateway, a portfolio company of Great Hill Partners, in connection with its pending sale to Abry Partners and Castik Capital. The transaction signed on April 28, 2021 and is expected to close in July 2021 following European regulatory filings.
Transaction Highlights
Deep sector expertise and ongoing momentum: William Blair's extensive knowledge of the HCM software market and thoughtful positioning helped deliver a superb result for Great Hill Partners and Reward Gateway. The pending transaction is the second successful European HCM technology business signed by the William Blair team in the past seven days.
Process and execution excellence: William Blair ran a global process approaching both financial sponsors and international strategic buyers. Significant upfront preparation enabled an expedited process, with Abry Partners and Castik Capital signing, in a joint bid, five days after submitting their IOI.
Long-standing relationship and guidance: William Blair has maintained a strong and trusted relationship with Great Hill Partners, and was able to demonstrate the collaborative approach of William Blair's U.S. and European teams.
About the Companies
Reward Gateway helps over 1,900 of the world's leading companies in 23 countries to connect, recognize and support their best people with an employee engagement platform that brings employee benefits, discounts, recognition and reward, employee wellbeing, employee communications, and employee surveys into one unified hub. Clients include American Express, Unilever, Samsung, IBM, and McDonald's.
Great Hill Partners is a Boston-based private equity firm targeting investments of $25 million to $500 million in high-growth companies across the software, digital commerce, financial technology, healthcare, and digital infrastructure sectors.
Abry is one of the most experienced and successful sector-focused private equity investment firms in North America. Since its founding in 1989, the firm has completed over $82 billion of leveraged transactions and other private equity or preferred equity placements. Currently, the firm manages over $5 billion of capital across its active funds.
Castik is a European multi-strategy investment manager, acquiring significant ownership positions in European private and public companies, where long-term value can be generated through active partnerships with management teams. Founded in 2014, Castik is based in Luxembourg and focuses on identifying and developing investment opportunities across Europe.
Learn more about our technology investment banking expertise.