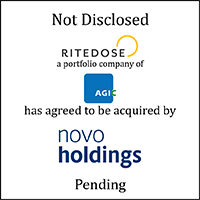 William Blair in conjunction with its Asian affiliate, BDA Partners acted as exclusive financial advisors to The Ritedose Corporation, an AGIC Capital portfolio company, in connection with its pending sale to Novo Holdings. The transaction was signed on December 28, 2021 and is expected to close in early 2022.
Transaction Highlights
Deep sector experience: Ritedose and AGIC Capital were attracted to William Blair and BDA's experience advising contract development and manufacturing companies, comprehensive pharma services industry knowledge, and deep relationships with the most active investors.
Tailored process and execution excellence: The transaction team conducted a comprehensive marketing process including both strategic and financial buyers, leveraging its strong familiarity with Ritedose and its end-markets to position the company as the leading U.S. blow-fill-seal (BFS) platform with differentiated capabilities, best-in-class quality, and operational excellence. The company attracted significant and diverse buyer interest, and this customized marketing effort resulted in a successful outcome for shareholders and management.
Repeat Client: William Blair and BDA have maintained a long-term relationship with Ritedose ,AGIC Capital, and Humanwell after selling Ritedose to AGIC and Humanwell in 2017.
Trusted guidance: William Blair's and BDA's transaction team was deeply involved in each step of the transaction process, including close collaboration with Ritedose and its shareholders in developing marketing materials, coordinating due diligence with multiple parties, and negotiating key contract terms.
About the Companies
Founded in 1995 in Columbia, South Carolina, The Ritedose Corporation is an industry leader in the aseptic manufacturing and liquid packaging of respiratory and ophthalmic products, utilizing proven BFS technology to ensure efficient, consistent and safe dosage delivery. The company's 25-year track record includes the delivery of more than 8 billion doses since 2012 without a single recall, and its current capacity is over 2 billion units annually.
Founded in 2015, AGIC Capital is a European-Asian fund focused on investments in advanced industrial and healthcare technology companies and has more than $2.2 billion of assets under management. It targets buyout and growth-stage investment in small- and medium-sized companies and employs customized, hands-on approaches to guiding and supporting portfolio companies in developing and executing market penetration plans. AGIC has offices in Munich, London, Hong Kong, Shanghai, and Beijing.
Novo Holdings, a wholly owned subsidiary of the Novo Nordisk Foundation, is recognized as a leading international life science investor, with a focus on creating long-term value. As a life science investor, Novo Holdings provides seed and venture capital to development-stage companies and takes significant ownership positions in growth and well-established companies.
Learn more about our healthcare services investment banking expertise.