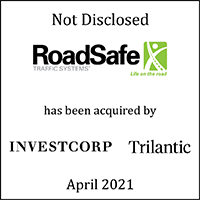 William Blair acted as the exclusive financial advisor to RoadSafe Traffic Systems in connection with its sale to Investcorp and Trilantic North America from ORIX Capital Partners.
Transaction Highlights
Deep sector knowledge: William Blair's extensive knowledge and experience in the utility and infrastructure space, along with the firm's strong relationships with likely financial buyers, were key considerations in ORIX engaging William Blair. Thoughtfully articulating the company's market-leading position, mission-critical value proposition, and growth strategy were pivotal in generating strong buyer interest and optimizing value.
Process and execution excellence: William Blair was integrally involved in each step of the transaction process, resulting in a highly efficient process that solicited active interest from financial buyers and generated an exceptional preempted outcome at the rebid phase.
Long-standing relationship and guidance: William Blair has maintained a strong and trusted relationship with Investcorp and Trilantic over the course of many years. The transaction team worked closely with both firms to fulfill substantial diligence needs and provide unique growth insights for RoadSafe – all in a fully virtual format.
About the Companies
Based in Chicago, Illinois, RoadSafe is the nation's largest provider of traffic control and pavement marking services to roadway, construction, state transportation, railroad, and utility customers in the U.S. RoadSafe also distributes high quality, innovative, and durable traffic safety products and personal protective equipment for traffic work zones. The company operates from more than 50 locations with over 1,600 employees, enabling it to service all 48 continental states.
Investcorp is a leading global provider and manager of alternative investment products, with a long history of investing across industrial services sectors. Founded in 1982, it currently has approximately $35 billion in assets under management.
Trilantic, a leading, growth-focused middle market private equity firm, invests primarily in distributed, branch-based industrial services businesses. Its North American business is based in New York, New York, and currently has approximately $10 billion in capital commitments.
ORIX Capital Partners is an operationally-focused middle-market private equity team dedicated to utilizing in-house operating expertise to partner with talented and visionary management teams and entrepreneurs to build companies of significant and sustainable value. It has deployed over $550 million of capital since its launch in 2016.