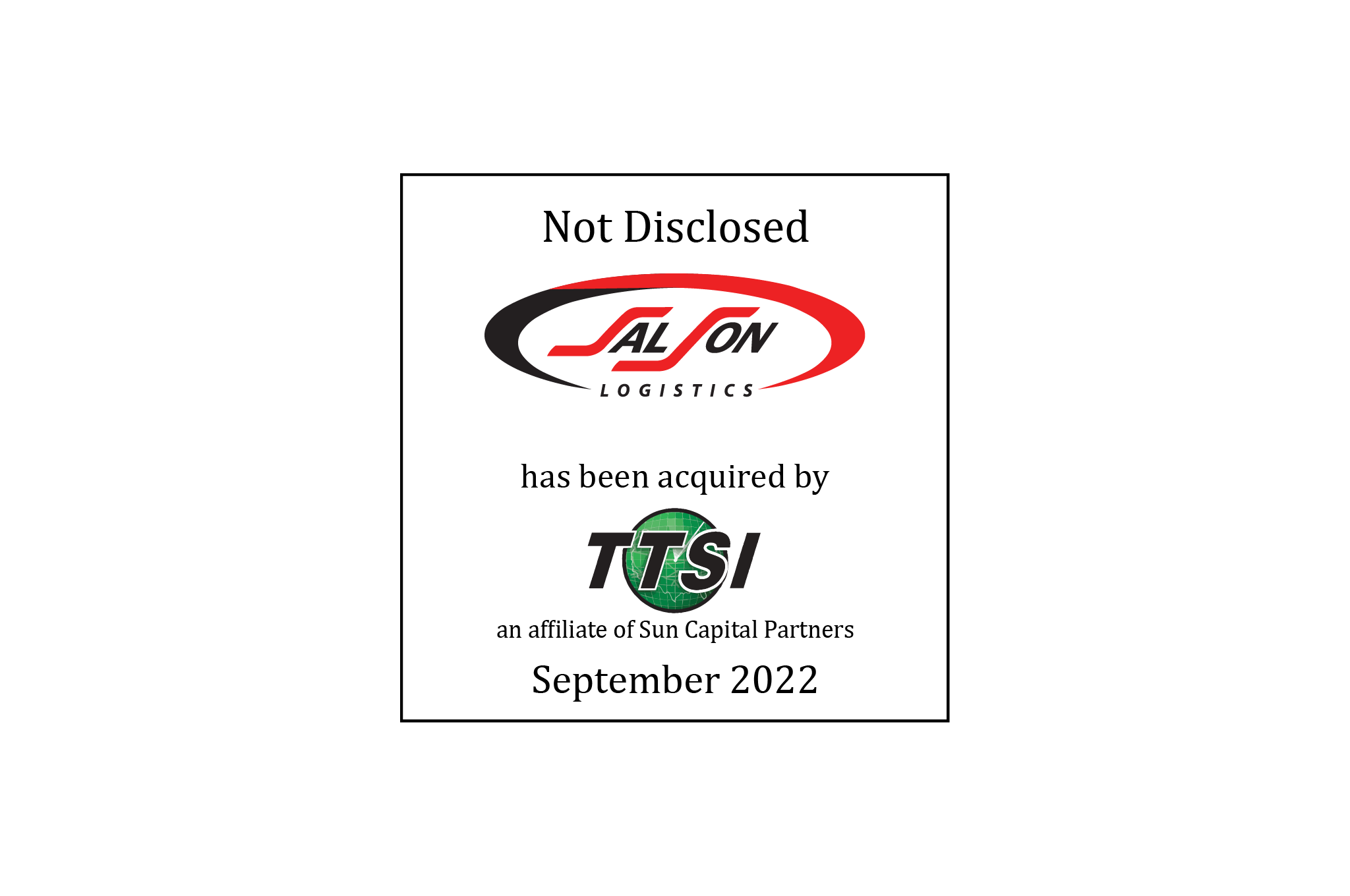 William Blair acted as the exclusive financial advisor to SalSon Logistics, Inc. (SalSon or the Company) in connection with its sale to Total Transportation Services Inc. (TTSI), an affiliate of Sun Capital Partners. The transaction closed on September 2, 2022.
About the Companies
Based in Newark, New Jersey, SalSon is a leading provider of "port-to-shelf" logistics solutions, including intermodal drayage, transloading, value-added warehousing, dedicated contract carriage, and pooled distribution / last mile delivery services. The Company serves as an integrated supply chain partner to long-standing, blue-chip customers across attractive end markets, including retail, specialty chemicals, food and beverage, and building products. Leveraging a diversified suite of logistics solutions to provide customers with greater speed-to-market, flexibility, and transparency, SalSon has driven growth through various organic initiatives, including geographic expansion, growth with existing and new customers, and expansion into fast-growing adjacent markets, such as value-added warehousing and transloading.
Based in Rancho Dominguez, California, TTSI is a leading national provider of multi-modal transportation services and logistic solutions, including drayage, warehousing, short-haul, and brokerage services. TTSI is one of few providers of scale with coast-to-coast coverage near all of the nation's most active trade hubs and ports and the only drayage provider with a container yard strategically located within the Port of Los Angeles, the largest port of entry by container volume in North America. Served markets include retail, freight logistics, apparel, and automotive.
Sun Capital Partners is a global private equity firm focused on partnering with outstanding management teams to accelerate value creation. Since 1995, the firm has invested in more than 465 companies worldwide with revenues in excess of $50 billion across a broad range of industries and transaction structures and has built a reputation as a trusted partner, recognized for its operational experience. Sun Capital Partners focuses on defensible businesses in growing markets with tangible performance improvement opportunities in the Business Services, Consumer, Healthcare, Industrial, and Technology sectors. The firm has offices in Boca Raton, Los Angeles and New York, and an affiliate with offices in London.
Learn more about our supply chain, commercial services & technologies investment banking expertise.