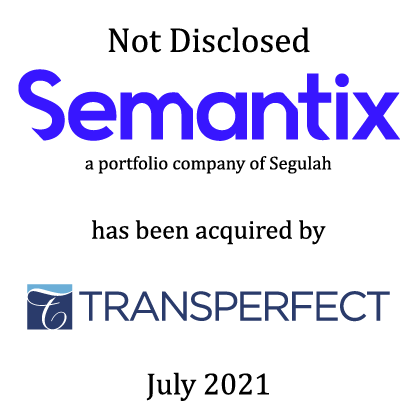 William Blair acted as the exclusive financial advisor to Semantix, a portfolio company of Segulah Private Equity, in connection with its sale to TransPerfect. The transaction closed on July 30th, 2021.
Transaction Highlights
Deep relationships and sector expertise: Semantix and Segulah were attracted to William Blair's extensive knowledge and industry experience in the Language Services market. Frequent interactions and market insights ahead of the sales process, with regards to the most relevant Strategic buyers, made William Blair the ideal partner for Semantix. The transaction marks William Blair's 54th Services deal in the past 24 months, and eighth Language Solutions deal in total.
Highly strategic transaction: The transaction will extend TransPerfect's reach into the Nordic region and further underpin its position as a leading global language services provider. William Blair managed a highly sensitive, complex and almost fully virtual strategic due diligence process as well as an intense negotiation phase in an expedited process. Semantix and TransPerfect represent highly complementary businesses and will form a leading global language services provider.
Trusted M&A guidance: William Blair's deal team worked closely with Semantix's management and Segulah throughout each step of the transaction process, including performing detailed financial analyses, leading buyer outreach, coordinating due diligence and providing guidance on negotiations and overall process strategy. Thorough preparation allowed for the successful positioning of Semantix as a growing language solutions provider and a clear market leader in the Nordics.
About the Companies
Semantix is a Stockholm-based, Nordic market leader for language technology solutions, focusing on providing multilingual services like core translation, localization, content enhancement and workflow optimization. The company also provides on-site, phone, video and on-demand interpreting, as well as business and conference interpreting. Semantix has been a successful consolidator and integrator of the Language Solutions market, particularly in the Nordics, with 13 acquisitions since 2007. It employs over 300 FTEs across 13 offices. Semantix was acquired by Segulah in 2015.
TransPerfect is a privately held language services provider, offering a full range of language and business services including translation, interpretation, website localization, subtitling/voiceovers, multicultural marketing, diversity and inclusion consulting, deposition services, and litigation support. Founded in 1992, the company is based in New York, USA. Employing over 6,000 people in its offices across 104 cities and six continents, TransPerfect is the world's largest provider of language services.