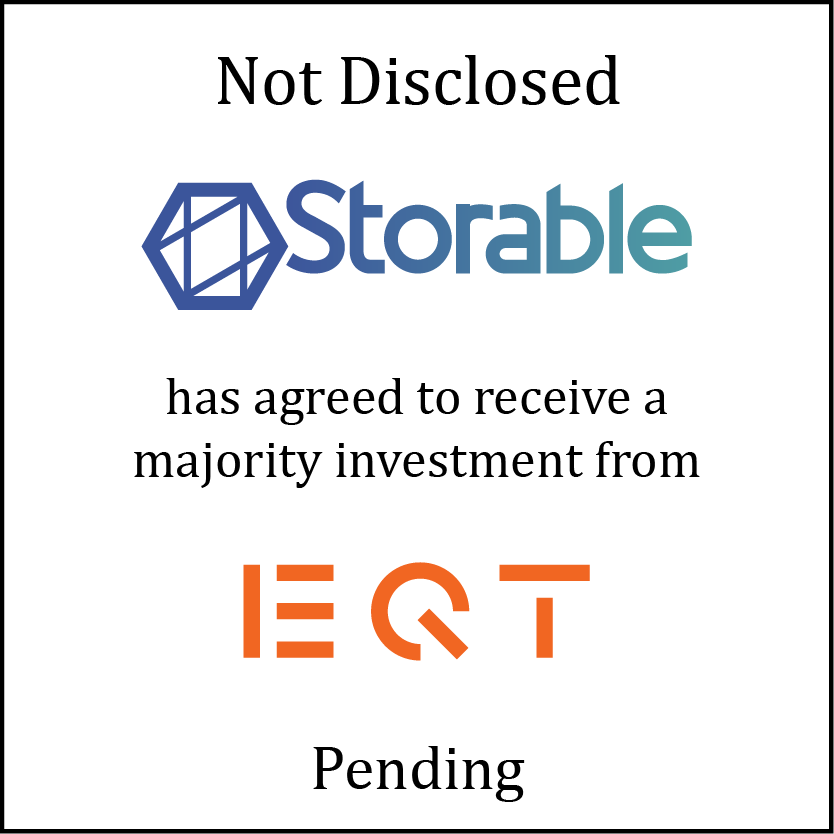 William Blair acted as exclusive financial advisor to Storable, Inc. (Storable), a portfolio company of Cove Hill Partners, in connection with a pending majority investment from EQT alongside existing investors, Cove Hill Partners and the Storable management team. The transaction was announced on December 16, 2020, and is expected to close in 2021.
Transaction Highlights
Unparalleled industry insights and buyer relationships: The transaction team's unrivaled domain expertise within real estate software and integrated payments, enabled William Blair to articulate a powerful growth story, create a unique M&A process strategy, and offer a deep understanding of buyer priorities.
Trust-based relationship and guidance: William Blair successfully advised Storable and Cove Hill Partners through each step of the process and closely collaborated on developing marketing materials, coordinating due diligence, and navigating highly accelerated process dynamics. William Blair has also developed a strong and trusted partnership with Cove Hill Partners.
Execution and process excellence: The transaction team ensured thorough and robust preparation at the onset to maximize process agility and flexibility to capitalize on a highly accelerated process timeline and demanding diligence. William Blair successfully positioned Storable as a highly scarce asset and clear leader in self-storage software, ultimately leading to an exceptional outcome for Storable shareholders.
About the Companies
Based in Austin, Texas, Storable offers the self-storage industry's most comprehensive suite of technology products known as the Storable Platform. The Storable Platform delivers management software, marketing websites, tenant insurance, payments, and the industry's largest storage marketplace all in one integrated solution, designed to help storage operators increase efficiency, enhance occupancy, and improve profitability. The Storable family of companies includes SiteLink, storEDGE, SpareFoot, Select Merchant Solutions, Storsmart, and Bader Insurance. Storable is backed by EQT and Cove Hill Partners and led by Co-Founder & CEO, Chuck Gordon.
EQT is a purpose-driven global investment organization with more than € 75 billion in raised capital and over € 46 billion in assets under management across 16 active funds. EQT funds have portfolio companies in Europe, Asia-Pacific, and North America with total sales of more than € 27 billion and approximately 159,000 employees. EQT works with portfolio companies to achieve sustainable growth, operational excellence and market leadership.
Cove Hill Partners is a long-term oriented private equity firm focused on partnering with outstanding management teams to build market-leading consumer and technology companies. The firm was founded in 2017 by seasoned private equity investors to invest their personal capital alongside a small group of likeminded investors. The team currently manages an inaugural fund of over $1 billion with an innovative structure that provides the flexibility to enable a patient, concentrated and value-add approach in a small portfolio of long-term investments.
Learn more about our technology investment banking expertise.