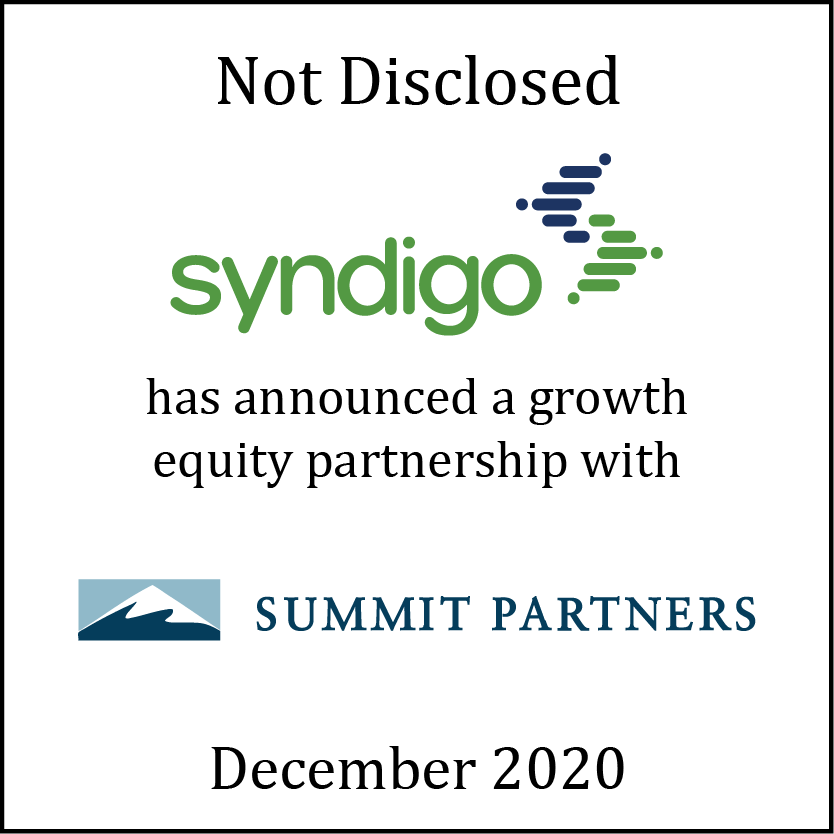 William Blair acted as the exclusive financial advisor to Syndigo, a portfolio company of The Jordan Company (TJC), in connection with its investment from Summit Partners. The transaction was announced and closed on December 15, 2020.
Transaction Highlights
Trusted guidance and relationships: William Blair and TJC's cultural similarities bred a trust-based relationship that was enhanced through advice and guidance in helping TJC build their software M&A presence. This relationship began with the sale of Simpleview to TJC in 2018 and culminated in an introduction to Syndigo and a no-bakeoff engagement to act as a thought leader and partner to the business.
Deep software domain expertise: Syndigo and TJC were attracted to William Blair's extensive knowledge and industry experience advising market leading software companies. Since 2017, William Blair has advised on more than 70 M&A transactions and has underwritten over 55 public offerings for software companies.
Process and execution excellence: William Blair constructed and managed an accelerated, high-touch process with a targeted and carefully curated group of financial investors, successfully positioning Syndigo to generate significant competitive tension.
About the Companies
Syndigo enables commerce by supporting the efficient transfer of information between brands and their customers. Syndigo provides descriptive product and nutritional information, images and other digital media, powered by deep analytics to empower engaging brand experiences online and in store. Through Syndigo's integrated platform, Content Experience Hub, clients can publish, manage, syndicate and audit their product content across the largest trading network of brands and recipients in the world. Syndigo serves more than 12,000 brands and 1,500 retailers globally in many important consumer industries including grocery, foodservice, hardlines, home improvement / DIY, pet, health and beauty, automotive, apparel, and healthcare products.
The Jordan Company (TJC), founded in 1982, is a middle-market private equity firm with original capital commitments in excess of $11 billion. TJC has a 38-year track record of investing in and contributing to the growth of many businesses across a wide range of industries, including industrials; transportation & logistics; healthcare & consumer; and telecom, technology & utility. The senior investment team has been investing together for over 20 years and is supported by its Operations Management Group, established in 1988 to initiate and support operational improvements in portfolio companies. Based in New York, TJC also has an office in Chicago.
Founded in 1984, Summit Partners is a global alternative investment firm that is currently managing more than $21 billion in capital dedicated to growth equity, fixed income and public equity opportunities. Summit invests across growth sectors of the economy and has invested in more than 500 companies in technology, healthcare and other growth industries. Summit maintains offices in North America and Europe and invests in companies around the world.
Learn more about our technology investment banking expertise.