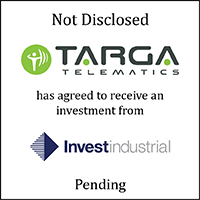 William Blair acted as the exclusive financial advisor to Targa Telematics (Targa) in connection with its pending investment from Investindustrial. The transaction was signed on June 3, 2021 and is subject to customary closing conditions. The transaction is expected to close in July 2021.
Transaction Highlights
Deep sector expertise in telematics, IoT and software: Targa Telematics recognized William Blair's extensive knowledge and transaction experience advising telematics and IoT companies, as well as deep relationships with the most likely investors globally. The transaction builds on William Blair's extensive experience in the global telematics market, having advised on transactions in Europe, North America, South America, and Africa.
Creative, successful positioning: Targa Telematics valued William Blair's ability to articulate Targa's market leading and differentiated position serving unique customer end markets with high value-added telematics and mobility solutions.
Trusted guidance: William Blair's transaction team was integrally involved throughout each step of the transaction process, including close collaboration with management in developing marketing materials, coordinating due diligence, and negotiating key contract terms.
About the Companies
Targa Telematics is a technology company with 20 years of experience in connected vehicles. It provides technological solutions in telematics, smart mobility and digital IoT platforms for mobility operators. The company addresses short and long-term rental companies, large finance companies and large fleets with a range of services from insurance telematics to asset and fleet management, remote diagnostics and telemetry for vehicles, professional and construction-site vehicles, through to the management of airport service vehicles. Managing over half a million connected assets, in 2020 Targa Telematics reported revenues of €40 million, 130 employees and over 950 customers.
Investindustrial is a leading European group of independently managed investment, holding and advisory companies with €11 billion of raised fund capital. With ESG principles deeply embedded into the Firm's core approach, Investindustrial has a 30-year history of providing mid-market companies capital, industrial expertise, operational focus and global platforms to accelerate sustainable value creation and international expansion. Investindustrial's investment companies act independently from each other and each Investindustrial fund.
Learn more about our technology investment banking expertise.