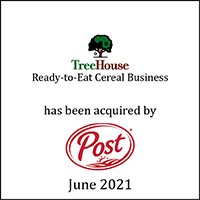 William Blair acted as exclusive financial advisor to TreeHouse Foods, Inc. (NYSE: THS), in connection with the acquisition of its ready-to-eat (RTE) cereal business by Post Holdings, Inc. (NYSE: POST). The transaction closed and announced June 1, 2021.
Transaction Highlights
Food & Beverage sector expertise: THS recognized William Blair's extensive knowledge and experience advising leading food and beverage companies and regular dialogues with the most likely strategic and financial buyers focused on the Food & Beverage sector.
Public company M&A experience: THS was attracted to William Blair's extensive public company M&A advisory experience, with notable past success in public-company divestitures and public-to-public transactions.
Strong relationships and trusted guidance: William Blair has maintained a long-standing partnership with THS, working with and advising the company on multiple prior transactions. William Blair's transaction team worked closely with THS leadership and Board of Directors through each step of the transaction, providing tailored strategic guidance and financial analyses, as well as coordinating an in-depth due diligence process.
About the Companies
The TreeHouse Foods RTE cereal business is a leading, private label RTE cereal manufacturer in North America. The business produces an extensive range of clean label products through industry-leading R&D and new product development processes. The RTE cereal business includes two, state-of-the-art manufacturing facilities that enable broad and flexible capabilities across batch and extruded cereal products.
TreeHouse Foods, Inc. is a leading manufacturer and distributor of private label packaged foods and beverages in North America. The company has approximately 40 production facilities across North America and Italy, and a vision to be the undisputed solutions leader for custom brands for its customers.
Post Holdings, Inc., based in St. Louis, Missouri, is a consumer packaged goods holding company operating in the center-of-the-store, refrigerated, foodservice, food ingredient and convenient nutrition food categories.
Learn more about our consumer & retail investment banking expertise.