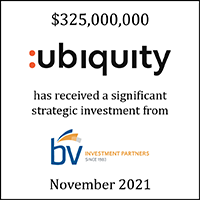 William Blair acted as exclusive financial advisor to Ubiquity Global Services in connection with its strategic investment from BV Investment Partners. The transaction closed on November 4, 2021.
Transaction Highlights
Deep sector expertise and relationships: Ubiquity was attracted to William Blair's highly relevant transaction experience in the outsourced services sector, as well as its relationships with financial sponsors and strategic buyers with significant industry expertise and ability to invest via majority or minority.
Creative, successful positioning: The transaction team articulated Ubiquity's unique value proposition in the highly regulated and rapidly transforming fintech and healthcare end markets, which was further substantiated by the company's high growth profile, key customer relationships, and significant visibility into pipeline of new business.
Trusted sell-side M&A advice: William Blair was integrally involved throughout each step of the transaction process, advising and educating management on the pros and cons of multiple different transaction structures and the go-forward ownership implications associated with each, which helped result in a successful, outsized outcome.
About the Companies
Ubiquity's relationship-based outsourcing pioneers next-gen CX, changing how brands interact with customers in an omnichannel world. Ubiquity's team of over 6,000 dedicated problem-solvers combines deep industry knowledge with an agile methodology to understand how customer experience supports a brand's objectives and devise plans to accelerate toward them. Ubiquity provides multilingual, end-to-end solutions across industries, including customer experience management services, interactive voice response (IVR) and AI-enabled technologies, and banking operations support, incorporating fraud investigation, ID verification, and dispute and chargeback management. Ubiquity is based in New York City and has delivery locations in Europe, Asia, and the Americas.
BV Investment Partners is one of the oldest and most experienced sector-focused private equity firms in North America. Since its founding in 1983, the firm has invested approximately $4 billion, actively targeting investments in the tech-enabled business services, software, and IT services industries.
Learn more about our tech-enabled services investment banking expertise.