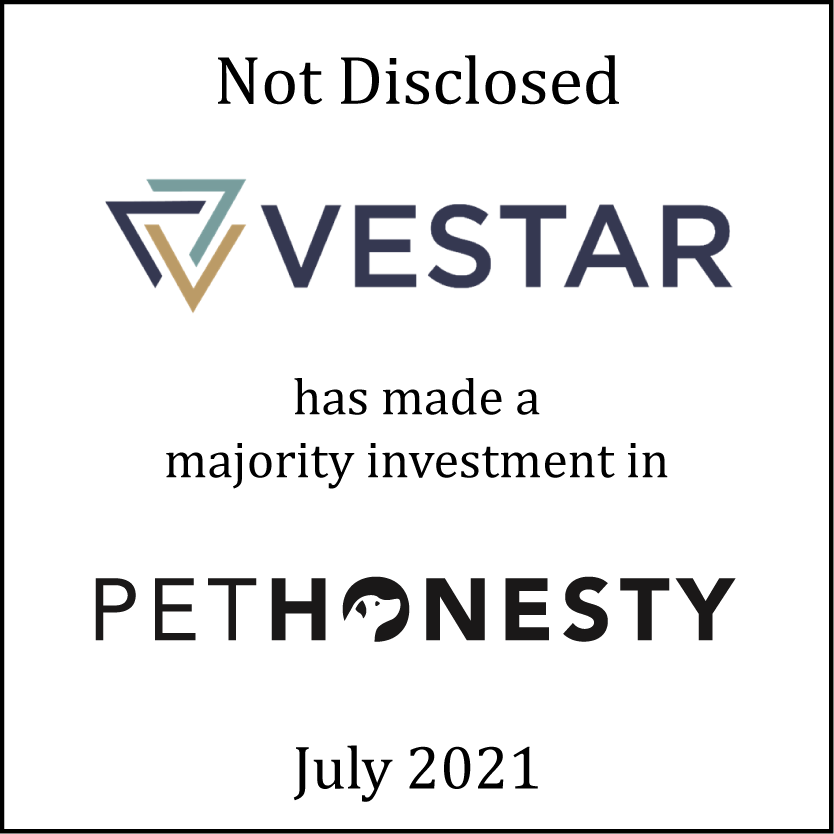 William Blair acted as exclusive financial advisor to Vestar Capital Partners in connection with the majority investment in PetHonesty, a leader in premium pet supplements. The transaction closed on July 28, 2021.
Transaction Highlights
Deep sector knowledge: Vestar Capital Partners was attracted to William Blair's deep expertise in the pet and animal health space, recognizing William Blair's industry thought leadership and transaction experience in the space.
Trusted guidance: Vestar Capital Partners valued its longstanding relationship with William Blair and its track record in the pet category. In particular, the team provided value to Vestar through thoughtful perspectives around long-term macro trends within the broader pet and supplements categories, sector valuations, and evaluating the DTC opportunity for PetHonesty.
Competitive insights: William Blair's team worked closely with the Vestar team to provide thoughtful process tactics, strategic guidance and relevant market insights throughout the process.
About the Companies
Vestar Capital Partners is a leading U.S. middle-market private equity firm specializing in management buyouts and growth capital investments. Vestar invests and collaborates with incumbent management teams and private owners to build long-term enterprise value, with a focus on Consumer, Business & Technology Services and Healthcare. Since its founding in 1988, Vestar funds have invested $8 billion in 85 companies – as well as more than 200 add-on acquisitions – with a total value of approximately $50 billion.
Based in Austin, Texas and founded in 2018, PetHonesty is a trusted leader in pet health, providing premium pet supplements and products. The company's pet products are formulated to help address a range of common pet ailments, including mobility, digestion, and allergies, providing a healthy supplement to traditional pet diets. PetHonesty products are available via its website as well as through Amazon and Chewy.
Learn more about our consumer and retail investment banking expertise.