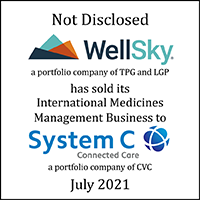 William Blair acted as the exclusive financial advisor to WellSky Corporation, a portfolio company of TPG Capital and Leonard Green & Partners, in connection with the sale of its International Medicines Management Business, WellSky International, to System C, a portfolio company of CVC Capital. The transaction closed on July 23, 2021.
About the Companies
WellSky International (formerly known as JAC) is a leading provider of medicines management solutions in the U.K., Ireland, South Africa, Norway, Sweden, Belgium and the Netherlands. WellSky International's medicines management platform draws upon decades of domain expertise and prioritizes patient safety, operational efficiency and financial sustainability and includes WellSky EPMA, WellSky Pharmacy and WellSky Chemotherapy. Together they create an integrated workflow with easy links to PAS, EPR, ADT, financial and other related applications.
WellSky Corporation is a technology company advancing human wellness worldwide. Its software and professional services address the continuum of health and social care, helping businesses, organizations, and communities solve tough challenges, improve collaboration for growth, and achieve better outcomes. WellSky serves more than 10,000 client sites around the world, including the largest hospital systems, blood banks and labs, home health and hospice franchises, government agencies, and human services organizations.
TPG is a leading global alternative asset firm founded in 1992 with $96 billion of assets under management and 12 offices worldwide. TPG's investment platforms are across a wide range of asset classes, including private equity, growth equity, impact investing, real estate, secondaries, and public equity.
LGP is a leading private equity investment firm founded in 1989 and based in Los Angeles, California. The firm partners with experienced management teams and often with founders to invest in market-leading companies. Since inception, LGP has invested in over 90 companies in the form of traditional buyouts, going-private transactions, recapitalizations, growth equity, and selective public equity and debt positions.
System C is the U.K.'s leading health and social care software supplier. Its products include the CareFlow electronic patient record and associated products, CarePlus Child Health and the Liquidlogic range of social care software. System C is part of the System C & Graphnet Care Alliance. The Care Alliance brings together three market leading providers – System C, Graphnet and Liquidlogic – to deliver integrated IT solutions to the UK health and social care market. The Care Alliance also supports the management of the Covid-19 and influenza vaccination programmes across England with its National Immunisation Management Software (NIMS). The Company's solutions use leading-edge technologies including mobile, wearables, instant messaging and machine learning to radically redesign services and the way clinicians and patients interact together.
CVC is a world leader in private equity and credit with $109 billion of assets under management and $160.3 billion of funds committed. CVC's private equity platform manages $82 billion of assets and comprises four strategies: Europe/Americas; Asia; Strategic Opportunities; and Growth Partners. The firm invests in high quality businesses with competitive leadership positions and works with their management teams to create sustainable long-term value.
Learn more about our technology investment banking expertise.