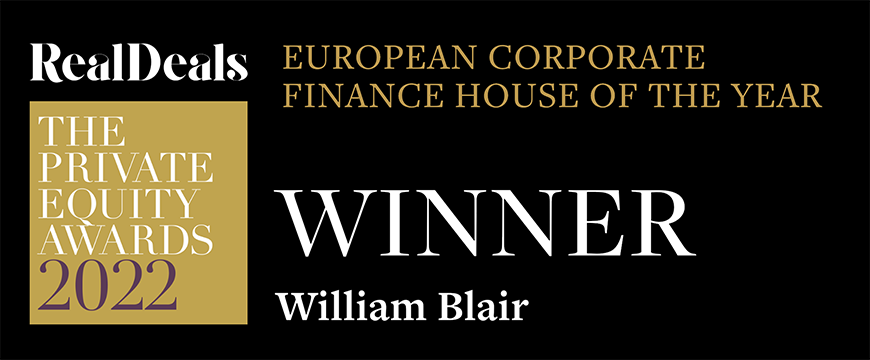 William Blair was named the winner of the 2022 European Corporate Finance House of the Year award at Real Deals' Private Equity Awards event held April 28 in London.
This prestigious award recognizes the overall achievement of commercial due diligence advisors over the course of the previous year.
"I am incredibly proud of the impact we are making across the region for our clients," said Anu Sharma, head of investment banking in Europe at William Blair. "This award is representative of the quality of our people, our approach as a holistic advisor across borders and sectors, and our focus on delivering world-class service for our clients in Europe."
William Blair was also the exclusive M&A advisor for the winning France and Benelux Deal of the Year, which involved the sale of Nuxeo to Hyland Software.
Now in its 21st year, Real Deals' Private Equity Awards are the longest running private equity awards in Europe and recognize industry trailblazers across the European private equity landscape.
About William Blair Investment Banking
William Blair's investment banking group enables corporations, financial sponsors, and owner/entrepreneurs around the world to achieve their growth, liquidity, and financing objectives. Drawing on the collective intellectual capital and deep sector expertise of a global team that reaches over 20 cities on four continents, the investment banking group brings a rigorous and innovative approach to corporate board advisory projects, mergers and acquisitions, and equity and debt financing. From 2017 to 2021, the team advised on more than $680 billion in completed transaction volume.
About William Blair
William Blair is the premier global boutique with expertise in investment banking, investment management, and private wealth management. We provide advisory services, strategies, and solutions to meet our clients' evolving needs. As an independent and employee-owned firm, together with our strategic partners, we operate in more than 20 offices worldwide.*
*Includes strategic partnerships with Allier Capital, BDA Partners, and Poalim Capital Markets.