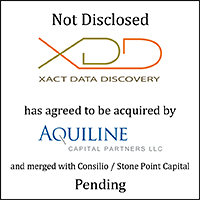 William Blair acted as the exclusive financial advisor to Xact Data Discovery (Xact), a portfolio company of JLL Partners, in connection with its pending sale to Aquiline Capital Partners. The transaction signed on March 30, 2021 and is expected to close in May 2021. Concurrently, Aquiline announced plans to combine Xact with Consilio, an eDiscovery company simultaneously being acquired by Stone Point Capital. William Blair also represented Xact in its sale to JLL Partners in 2017.
Transaction Highlights
Deep company and sector expertise: William Blair's extensive knowledge and experience in the legal services space, strong relationships with likely strategic and financial buyers, and longstanding knowledge of Xact were key considerations in securing the mandate. The team thoughtfully articulated the company's value proposition, multi-pronged growth strategy, and mitigants to sector risks, generating strong buyer interest and optimizing value.
Process and execution excellence: William Blair was integrally involved in each step of a process that required a high degree of flexibility to adapt to macroeconomic, buyer-related, and company-specific dynamics. The transaction team worked closely with Xact and JLL Partners throughout the marketing and diligence process, and effectively communicated the nuanced trends of a complex, data-rich business.
Longstanding relationship and guidance: William Blair has built a strong and trusted relationship with Xact over many years having now advised them through two sale processes, and has maintained ongoing strategic dialogue with the company through a period of explosive growth and M&A.
About the Companies
Xact Data Discovery is a leading international provider of eDiscovery, data management, and managed review services for law firms and corporations. Xact helps clients optimize their eDiscovery matters by orchestrating precision communication between people, processes, technology, and data. Xact services include forensics, eDiscovery processing, Relativity hosting, and managed review. Xact has 23 offices throughout the United States, one in the United Kingdom, and one in India. Xact offers exceptional customer service with a commitment to responsive, transparent, and timely communication to ensure clients remain informed throughout the entire discovery life cycle.
JLL Partners is a middle market private equity firm with over three decades of experience transforming businesses in the healthcare, specialty industrials, and business services sectors. The firm is dedicated to partnering with companies that it can help build into market leaders through a combination of strategic mergers and acquisitions, organic growth initiatives, and operational enhancements. The JLL Partners team is comprised of seasoned investment professionals and operating partners who are focused on driving long-term value creation across its portfolio. Since its founding in 1988, JLL Partners has committed over $5.5 billion of equity capital across eight private equity funds, with over 50 platform investments and more than 190 add-on acquisitions.
Aquiline Capital Partners, founded in 2005, is a private investment firm based in New York and London investing in businesses across the financial services sector in financial technology, insurance, investment management, business services, credit, and healthcare. The firm has $6.1 billion in assets under management.