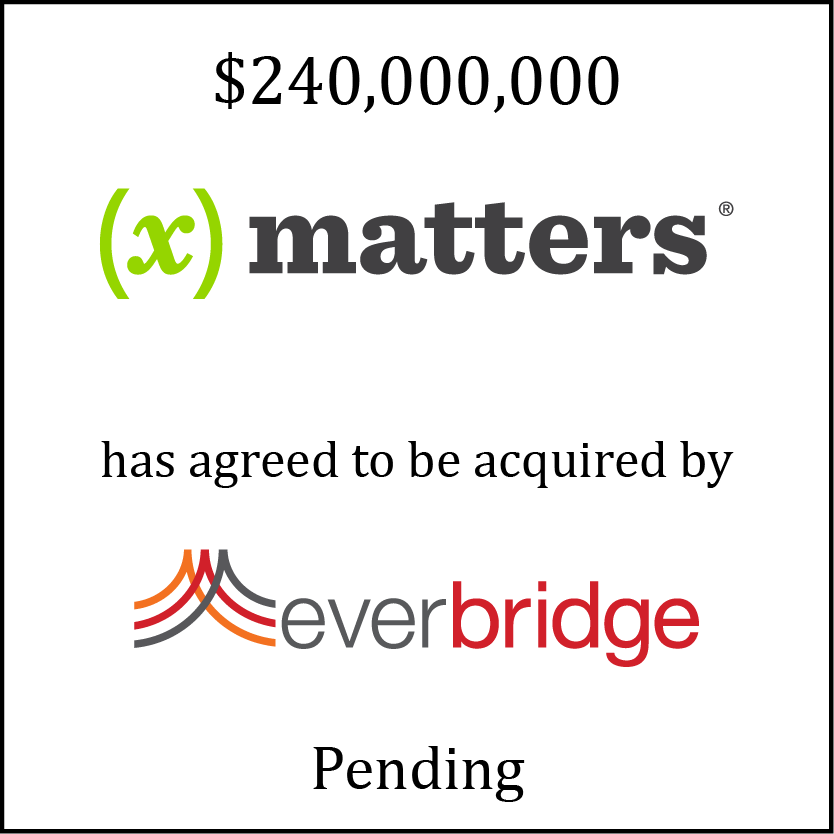 William Blair acted as exclusive financial advisor to xMatters, Inc. (xMatters), a portfolio company of Goldman Sachs Growth Equity, in connection with its pending acquisition by Everbridge, Inc. (NASDAQ: EVBG) (Everbridge). The transaction was announced on April 6, 2021 and is expected to close in the second quarter of 2021.
Transaction Highlights
Highly strategic transaction: The acquisition is highly strategic for both parties and marks a critical step in Everbridge's evolution. The transaction is expected to enhance Everbridge's growth opportunities in IT Alerting and Incident Management while delivering an exceptional outcome for xMatters shareholders.
Enterprise IT and DevOps expertise: xMatters and Goldman Sachs were attracted to William Blair's extensive domain knowledge and proven track-record advising industry-leading Enterprise IT and DevOps companies.
Tailored process and trusted relationships with strategic acquirers: The transaction team was integrally involved in driving a competitive, high-touch process with a targeted and carefully curated group of strategic parties. William Blair's transaction team worked closely with xMatters to develop key positioning themes and coordinate due diligence, which facilitated an efficient process amidst constantly-evolving market dynamics.
About the Companies
xMatters is a service reliability platform that helps DevOps, Site Reliability Engineers (SREs), and operations teams rapidly deliver products at scale by automating workflows and ensuring infrastructure and applications are always working. The xMatters code-free workflow builder, adaptive approach to incident management, and real-time performance analytics all support a single goal: deliver customer happiness. Over 2.7 million users trust xMatters daily at successful startups and global giants including athenahealth, BMC Software, Box, Credit Suisse, Danske Bank, Experian, NVIDIA, ViaSat and Vodafone. xMatters is based in San Ramon, California and has offices worldwide.
Founded in 1869, The Goldman Sachs Group, Inc. is a leading global investment banking, securities, and investment management firm. Goldman Sachs Merchant Banking is the primary center for the firm's long-term principal investing activity. Goldman Sachs Growth Equity is the dedicated growth equity team within Goldman Sachs, with over 25 years of investing history, over $8 billion of assets under management, and nine offices globally.
Everbridge, Inc. (NASDAQ: EVBG) is a global software company that provides enterprise software applications that automate and accelerate organizations' operational response to critical events in order to Keep People Safe and Businesses Running™. During public safety threats such as active shooter situations, terrorist attacks or severe weather conditions, as well as critical business events including IT outages, cyber-attacks or other incidents such as product recalls or supply-chain interruptions, over 5,600 global customers rely on the company's Critical Event Management Platform to quickly and reliably aggregate and assess threat data, locate people at risk and responders able to assist, automate the execution of pre-defined communications processes through the secure delivery to over 100 different communication modalities, and track progress on executing response plans. Everbridge serves 8 of the 10 largest U.S. cities, 9 of the 10 largest U.S.-based investment banks, 47 of the 50 busiest North American airports, 9 of the 10 largest global consulting firms, 8 of the 10 largest global automakers, 9 of the 10 largest U.S.-based health care providers, and 7 of the 10 largest technology companies in the world. Everbridge is based in Boston with additional offices in 20 cities around the globe.
Learn more about our technology investment banking expertise.