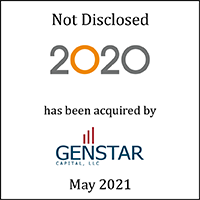 William Blair acted as the exclusive financial advisor to 2020 Technologies, a portfolio company of Golden Gate Capital, in connection with its sale to Genstar Capital. The transaction closed May 28th, 2021.
Transaction Highlights
Deep sector expertise: 2020 and Golden Gate were attracted to William Blair's deep knowledge and industry experience across vertical software broadly and within the kitchen, bedroom, and bath design software market. This is the second time William Blair has partnered with 2020, having advised the company on its sale to Golden Gate in 2017.
Process and execution excellence: William Blair successfully advised 2020 and Golden Gate through a robust, highly accelerated diligence process. The transaction team collaborated on developing expert positioning for marketing materials, coordinating due diligence, and navigating unique process dynamics.
Strong relationships and trusted guidance: William Blair maintains a long-standing partnership with Golden Gate Capital, providing unmatched M&A advisory services to their portfolio of software companies. William Blair has also developed a strong and trusted partnership with Genstar Capital, having invested in two M&A process led by William Blair in 2021.
About the Companies
2020 is a global provider of specialized computer-aided design (CAD), configure, price, quote (CPQ), and enterprise solutions dedicated to interior design, space planning and furniture manufacturing. 2020's mission-critical applications provide end-to-end solutions designed to optimize efficiency and improve productivity for the company's vast global network of customers, which includes more than 50,000 independent kitchen and bath dealers as well as many of the world's largest home improvement retailers and manufacturers.
Golden Gate Capital is a San Francisco-based private equity investment firm with over $19 billion in cumulative committed capital. The principals of Golden Gate Capital have a long and successful history of investing across a wide range of industries and transaction types, including going-privates, corporate divestitures, and recapitalizations, as well as debt and public equity investments. Notable software investments sponsored by Golden Gate Capital include Infor, BMC Software, and LiveVox.
Genstar Capital is a leading private equity firm that has been actively investing in high quality companies for over 30 years. Based in San Francisco, Genstar works in partnership with its management teams and its network of strategic advisors to transform its portfolio companies into industry-leading businesses. Together with Genstar X and all active funds, Genstar currently has approximately $33 billion of assets under management and targets investments focused on targeted segments of the financial services, healthcare, industrials, and software industries.
Learn more about our technology investment banking expertise.