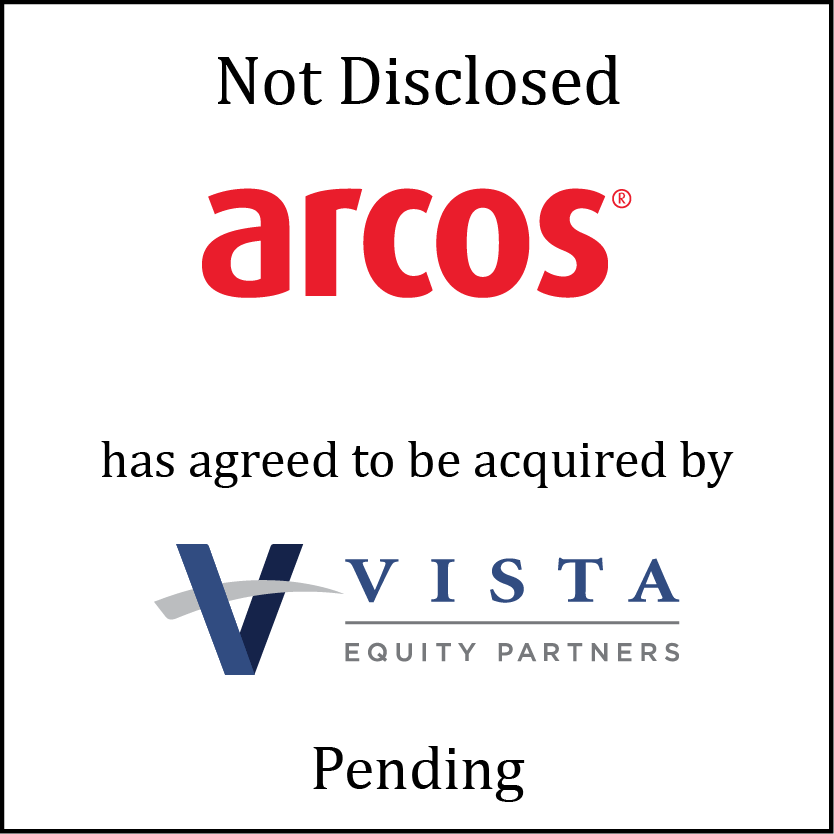 William Blair acted as the lead financial advisor to ARCOS, a portfolio company of The Riverside Company (Riverside), in connection with its pending acquisition by Vista Equity Partners (Vista). The transaction signed on March 11 and is expected to close in April.
Transaction Highlights
Deep sector expertise and relationships: Riverside and ARCOS were attracted to William Blair's extensive knowledge and industry experience advising market leading SaaS companies in the industrial and field service/utility sectors. In addition, William Blair's strong buyer relationships provided valuable insight into tactics and guidance for management of the most likely and aggressive buyers.
Trusted guidance: William Blair's transaction team successfully advised ARCOS through each step of the process in a rapidly shifting market environment, and closely collaborated on developing marketing materials, coordinating due diligence, educating prospective buyers, and navigating constantly-evolving process dynamics.
Process and execution excellence: The transaction team constructed and managed a high-touch process, engaging a broad array of both strategic and financial buyers which drove a highly competitive dynamic and resulted in an extraordinary outcome for ARCOS shareholders.
About the Companies
ARCOS is a leader in delivering SaaS solutions for managing resources, ensuring accurate, compliant shift scheduling, and automatically planning for all types of events. The ARCOS solution reports on the up-to-the-minute location and status of equipment and crews via mobile technology for utilities and other critical infrastructure like airlines, manufacturers, and industrial facilities. The ARCOS resource management platform helps organizations save time and money, while improving customer satisfaction and the efficiency, safety and accuracy of operations.
The Riverside Company is a global private equity firm focused on investing in growing businesses valued at up to $400 million. Since its founding in 1988, Riverside has made more than 750 investments. The firm's international private equity and structured capital portfolios include more than 120 companies.
Vista is a leading global investment firm with more than $73 billion in assets under management as of September 30, 2020. The firm exclusively invests in enterprise software, data and technology-enabled organizations across private equity, permanent capital, credit, and public equity strategies, bringing an approach that prioritizes creating enduring market value for the benefit of its global ecosystem of investors, companies, customers, and employees. Vista believes the transformative power of technology is the key to an even better future – a healthier planet, a smarter economy, a diverse and inclusive community, and a broader path to prosperity.
Learn more about our technology investment banking expertise.