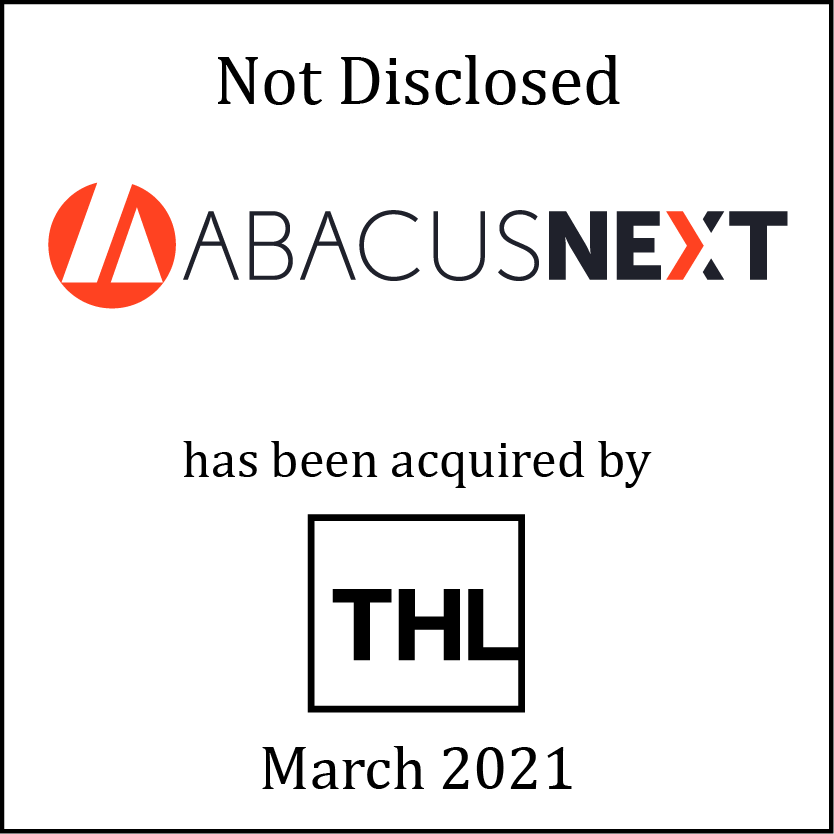 William Blair acted as the exclusive financial advisor to AbacusNext, a portfolio company of Providence Strategic Growth (PSG), in connection with its acquisition by Thomas H. Lee Partners (THL). The transaction was signed on January 29 and closed on March 10.
Transaction Highlights
Differentiated sector expertise: Extensive knowledge of, and experience in, the legal technology ecosystem. This expertise allowed the William Blair team to effectively position AbacusNext in a way that resonated powerfully with prospective buyers and drove value.
Long-standing relationship and guidance: William Blair has maintained a strong and trusted partnership with Abacus and PSG over the course of many years. This marks William Blair's second vertical software transaction with PSG in less than six months.
Process and execution excellence: William Blair designed and executed a high-touch process, beginning at the 2020 William Blair Private Equity Conference, to produce a highly competitive dynamic and an excellent outcome for AbacusNext shareholders.
About the Companies
AbacusNext is a leading vertical SaaS provider for compliance-focused professional services markets. The company's purpose-built cloud infrastructure puts customers' business data and vital applications into a virtual workspace that is accessible anywhere, anytime and from any device, enabling small and midsize legal and accounting firms to grow an efficient, secure, client-focused practice. More than 100,000 users worldwide benefit from the most complete product portfolio in the industry, including practice management solutions, tailored cloud options, document automation, and payment processing.
Providence Strategic Growth is a growth equity firm that partners with lower middle-market software and technology-enabled services companies to help them navigate transformational growth, capitalize on strategic opportunities, and build strong teams. Having backed more than 65 companies and facilitated over 275 add-on acquisitions, PSG brings extensive investment experience, deep expertise in software and technology, and a firm commitment to collaborating with management teams. Founded in 2014, PSG operates out of offices in Boston, Kansas City, and London.
Thomas H. Lee Partners, L.P. is a private equity firm that invests in middle market growth companies exclusively in three industry groups: financial services, healthcare, and technology & business solutions. Since 1974, THL has raised more than $25 billion of equity capital, invested in over 150 companies and completed more than 400 add-on acquisitions. THL is based in Boston.
Learn more about our technology investment banking expertise.