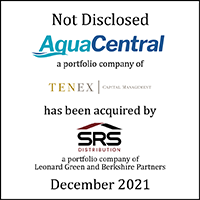 William Blair acted as the lead financial advisor to AquaCentral, a portfolio company of Tenex Capital Management (Tenex), in connection with its sale to Heritage Pool Supply Group (Heritage). Heritage is a rapidly growing platform within SRS Distribution, Inc. (SRS), a portfolio company of Leonard Green & Partners, L.P. (Leonard Green) and Berkshire Partners. AquaCentral is the second largest distributor of pool equipment and supplies in the United States. The transaction was signed and closed on December 10, 2021.
Transaction Highlights
Sector knowledge convergence: AquaCentral and Tenex were attracted to William Blair's deep expertise in the pool and specialty distribution sectors, recognizing William Blair's industry thought leadership and transaction experience in the space. This is William Blair's 6th pool sector transaction in 2021 and 9th in the last three years. In addition, William Blair has closed over 15 transactions in the specialty distribution sector in the last 18 months.
Trusted guidance: William Blair's deal team worked closely with AquaCentral's management team and Tenex throughout every step of the process, including close collaboration in performing detailed analyses, coordinating diligence, and managing overall process strategy.
Process and execution excellence: William Blair's team designed and facilitated a targeted process to negotiate and complete the transaction on an expedited basis, achieving a highly successful and preemptive outcome for the shareholders.
About the Companies
AquaCentral is the second largest distributor of pool equipment and supplies in the United States that was formed through Tenex's merger of two family-owned businesses, Florida Water Products and Pool and Electrical Products. Since the initial combination, the company has expanded quickly via robust same-store-sales growth, the merging of five other family-owned businesses, and the opening of multiple greenfield locations.
Tenex Capital Management is a private equity firm that invests in middle-market companies. Tenex uses an in-house team of hybrid investment professionals skilled in operational leadership, investing and capital markets structuring to maximize long-term value creation. Tenex's deep operating experience allows the firm to collaborate with management teams to capitalize on business and market opportunities. Tenex has successfully invested in a diverse range of industries, including industrials, business services, healthcare, building products, among others.
Founded in 2008 and based in McKinney, Texas, SRS Distribution, Inc. has grown to become the one of the largest and fastest growing building materials distributors in the United States. Since its inception, it has established a differentiated growth strategy and entrepreneurial culture that is focused on serving its customers, partnering with suppliers, and attracting the industry's best talent. It currently operates under a family of 27 distinct local brands encompassing more than 250 locations across 44 states.
Learn more about our consumer & retail and supply chain, commercial services & technologies investment banking expertise.