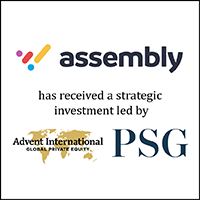 William Blair acted as financial advisor to Assembly in connection with its strategic investment led by Advent International (Advent). The investment included participation from previous investor PSG. The transaction closed in July 2021 and was publicly announced on September 21, 2021.
Transaction Highlights
Deep sector knowledge and M&A expertise: Assembly was attracted to William Blair's extensive knowledge and highly relevant transaction experience advising leading companies in the software and eCommerce enablement space.
Process and execution excellence: The transaction team constructed an accelerated process with a targeted group of potential investors with relevant sector expertise. Furthermore, the team worked closely with management to successfully position the company's highly engaged customer base and execution of multiple growth levers to give buyers confidence in valuation and go forward strategy.
Trusted guidance: William Blair was integrally involved throughout each step of the process and closely collaborated with management to conduct insightful analyses and expedite diligence with potential investors. The transaction deepens William Blair's long-standing relationship with PSG and extends its track record of serving as a trusted advisor.
About the Companies
Assembly is a next-gen e-commerce software and data platform founded in 2019. Through its five main brands, the company offers a suite of solutions to help merchants optimize and track marketplace performance, social performance, and other performance analytics as well as resources in the form of market insights, content and education. To date, Assembly has served over a million merchants in over 125 countries.
Founded in 1984, Advent International is one of the largest and most experienced global private equity investors. The firm has invested in over 380 private equity investments across 42 countries, and as of March 31, 2021, had $75 billion in assets under management. With 14 offices in 11 countries, Advent has established a globally integrated team of over 245 private equity investment professionals across North America, Europe, Latin America, and Asia. The firm focuses on investments in five core sectors, including business and financial services; health care; industrial; retail, consumer and leisure; and technology. After 35 years dedicated to international investing, Advent remains committed to partnering with management teams to deliver sustained revenue and earnings growth for its portfolio companies.
PSG is a growth equity firm that partners with middle-market software and technology-enabled services companies to help them navigate transformational growth, capitalize on strategic opportunities, and build strong teams. Having backed more than 80 companies and facilitated over 325 add-on acquisitions, PSG brings extensive investment experience, deep expertise in software and technology and a firm commitment to collaborating with management teams. Founded in 2014, PSG operates out of offices in Boston, Kansas City, and London.
Learn more about our technology investment banking expertise.