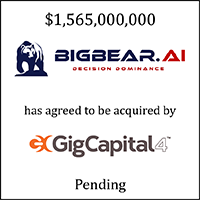 William Blair acted as the exclusive financial advisor to BigBear.ai (BigBear), a portfolio company of AE Industrial Partners (AE), in connection with its pending merger with GigCapital4, Inc. (NYSE: GIGGU; GigCapital4). BigBear, a leading provider of artificial intelligence, machine learning, cloud-based big data analytics, and cyber engineering solutions, and GigCapital4, a publicly-traded special purpose acquisition company, announced on June 4th that they have entered into a definitive merger agreement that will result in BigBear becoming a publicly listed company on the NYSE under a new ticker symbol to be determined. The transaction includes a $200 million convertible senior unsecured debt offering.
Transaction Highlights
Deep sector expertise: BigBear and AE were attracted to William Blair's extensive knowledge of government and intelligence contracting and experience in the big data analytics and artificial intelligence sectors. Sector expertise allowed the transaction team to guide management through a bespoke marketing process and a convertible debt raise.
Unique company insights drove compelling positioning: The transaction team effectively focused the SPAC and convertible debt investors on BigBear's highly attractive existing consumer base, large and expanding addressable market, new product development capabilities, robust M&A pipeline, and potential in both government and commercial end-markets.
Trusted guidance and execution excellence: William Blair's team worked closely with the BigBear and AE teams through every step of the transaction process, providing tailored strategic guidance, thoughtful process tactics, extensive analysis of deal structures, marketing materials, and relevant market insights.
Highly successful SPAC outcome: These efforts resulted in an exceptional valuation and outcome for shareholders.
SPAC Transaction Overview
The transaction implies an enterprise valuation for BigBear of $1.565 billion, or approximately 5.6x projected 2022 pro forma adjusted revenue of $277 million. The transaction includes $200 million convertible senior unsecured debt offering, convertible at $11.50/share, which was oversubscribed and includes investments by affiliates of certain funds managed by Fortress Investment Group, LLC, Marathon Asset Management, LP, and Highbridge Capital Management, LLC. Estimated cash proceeds from the transaction are expected to consist of GigCapital4's $359 million of cash in trust, plus $200 million from the sale the convertible offering.
The company expects to use the proceeds from the transaction to invest in BigBear's growth initiatives, eliminate existing debt, support a robust commercial go-to-market strategy, and provide additional working capital. It is anticipated that the combined company will have approximately $326 million of net cash on its consolidated balance sheet.
About the Companies
A new leader in decision dominance, BigBear is operationalizing artificial intelligence and machine learning at scale through its end-to-end data analytics platform. BigBear delivers superior information and decision support to customers in the private and public sectors through a modular suite of big data analytics and solutions. Each of BigBear's three products can be used on its own or together, including in conjunction with a customer's existing technology: Observe (data ingestion and conflation), Orient (composable machine learning at scale), and Dominate (visual anticipatory intelligence and optimization).
BigBear's customers, which include the U.S. Intelligence Community, Department of Defense and U.S. Federal Government, as well as commercial customers across verticals such as infrastructure, energy, maritime transportation and logistics, rely on BigBear's advanced technology solutions to analyze information, identify and manage risk, and optimize solutions to complex problems, leading to better decision making.
Based in Columbia, Maryland, BigBear has additional locations in Virginia, Massachusetts, Michigan, and California.
Learn more about our industrials investment banking expertise.