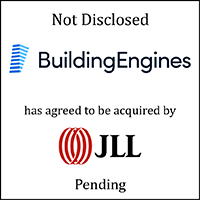 William Blair acted as exclusive financial advisor to Building Engines, Inc. (Building Engines), a portfolio company of Wavecrest Growth Partners, L.P. (Wavecrest), in connection with its pending sale to JLL. The transaction was announced on October 21, 2021 and is expected to close in the fourth quarter of 2021, subject to customary closing conditions, including regulatory review. Upon completion of the transaction, Building Engines will operate within JLL Technologies (JLLT), a division of JLL.
Transaction Highlights
Unparalleled industry insights: William Blair's unrivaled domain expertise within real estate software enabled the transaction team to articulate a powerful platform story to strategic and financial sponsor buyers, design a unique process strategy, and offer a deep understanding of buyers' priorities. The pending sale of Building Engines marks over twelve William Blair-advised real estate software transactions since the beginning of 2020.
Process and execution excellence: The transaction team conducted thorough preparation from the onset and created robust materials to maximize engagement, positioning Building Engines as the must-have asset in the building operations ecosystem. The team created process agility and elicited strong engagement from strategic and financial sponsor buyers alike, ultimately delivering an excellent result for all stakeholders.
Trust-based relationship and guidance: William Blair successfully advised Building Engines and Wavecrest through each step of the process and worked in close collaboration with them to develop marketing materials and financial analyses, streamline due diligence, and navigate complex process dynamics.
About the Companies
Building Engines (The company) improves net operating income across the world's most successful commercial real estate (CRE) portfolios. Building Engines' customers increase revenue, deliver the best occupant experience, and reduce operating costs with Prism – the industry's most innovative and powerful building operations platform. Today, more than 1,000 customers rely on Building Engines to manage critical operational needs across more than three billion square feet and 35,000 properties worldwide. The company is backed by Wavecrest Growth Partners, River Cities Capital, MassMutual Ventures, and Camber Creek.
Wavecrest is a growth equity firm focused on investing in and partnering with leading B2B software and technology-enabled services companies. Wavecrest targets investments in high-growth companies with proven products and business models and brings to bear a differentiated combination of investing and operating experience and networks to help accelerate growth and profitability. Wavecrest's team has over three decades of collective investing and operating experience in growth-stage B2B technology companies, including numerous successful outcomes.
JLL (NYSE: JLL) is a leading professional services firm that specializes in real estate and investment management. JLL shapes the future of real estate for a better world by using the most advanced technology to create rewarding opportunities, amazing spaces and sustainable real estate solutions for its clients, people and communities. JLL is a Fortune 500 company with annual revenue of $16.6 billion in 2020, operations in over 80 countries and a global workforce of more than 92,000 as of June 30, 2021. JLL is the brand name, and a registered trademark, of Jones Lang LaSalle Incorporated.
Learn more about our technology investment banking expertise.