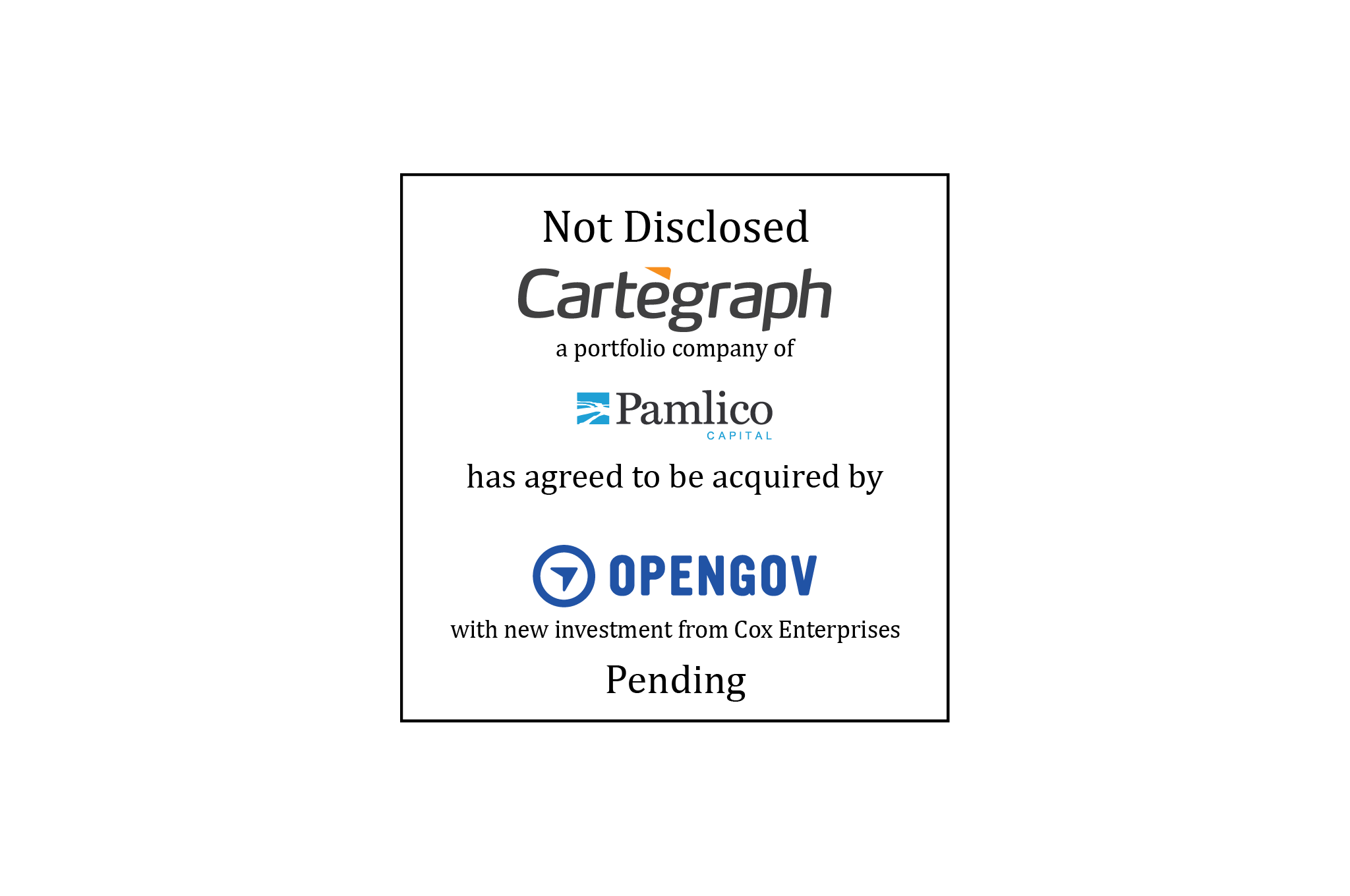 William Blair acted as exclusive financial advisor to Cartegraph Systems, LLC (Cartegraph), a portfolio company of Pamlico Capital Management, L.P. (Pamlico), in connection with its pending sale to OpenGov, Inc. (OpenGov) with new investment from Cox Enterprises, Inc. (Cox). The transaction was announced on July 27, 2022, and is expected to close in the third quarter of 2022.
About the Companies
Cartegraph builds safer, more resilient, and sustainable communities through better stewardship of buildings and critical infrastructure. It offers powerful, intuitive Software-as-a-Service (SaaS) solutions that help government agencies, utilities, and educational institutions manage their physical assets and associated operations. With Cartegraph software, users optimize the life of their infrastructure, deploy maintenance resources efficiently, and increase productivity to drive high-performance operations.
Pamlico is a private equity firm founded in 1988 that invests in growing middle market companies in North America. The firm seeks control-oriented growth equity investments of up to $200 million alongside founders and proven leaders in its target industries: communications, healthcare, services and software. Pamlico, based in Charlotte, NC, has assets under management of about $4 billion.
OpenGov is the leader in modern cloud software for our nation's cities, counties, and state agencies. With a mission to power more effective and accountable government, OpenGov serves more than 1,100 agencies across the U.S. and is built exclusively for the unique budgeting, procurement, and citizen services needs of the public sector. The OpenGov Cloud makes organizations more collaborative and efficient and enables best-in-class communication with stakeholders and community.
Cox is dedicated to building a better future through leading communications, automotive, and media companies. Major operating subsidiaries include Cox Communications and Cox Automotive, and the company is strategically investing in new industries and emerging technologies, with sizeable interests in clean technology and healthcare. Based in Atlanta, Georgia, Cox is a global company with $20 billion in annual revenues and brands that include Autotrader, Kelley Blue Book, and Cox Homelife. Founded in 1898 by Ohio Governor James M. Cox, the company is a family-owned business.
Learn more about our technology investment banking expertise.