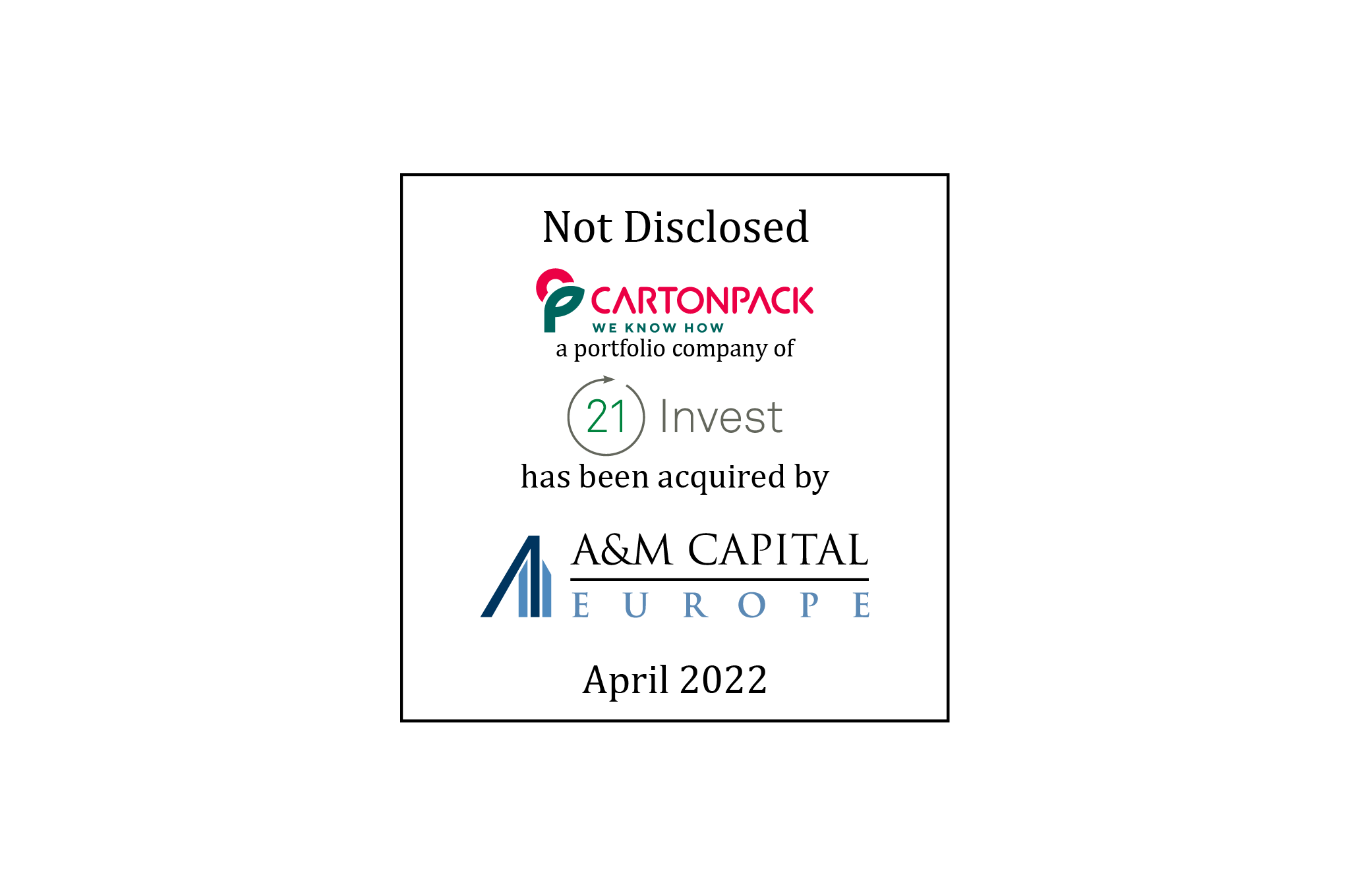 William Blair acted as lead financial advisor to the shareholders of Carton Pack S.p.A. (Carton Pack), a portfolio company of 21 Invest, in connection with its sale to A&M Capital Europe (AMCE). The transaction was signed on March 5, 2022 and closed on April 21, 2022.
About the Companies
Founded in 1970 by the Leone family and based in Bari (Italy), Carton Pack is a leading Italian manufacturer of multi-material packaging for the Fruit & Vegetable and "Ready-to-Eat" end markets. Throughout the company's growth journey, it has significantly expanded its international presence (reaching c. 30% of revenue outside Italy) and product portfolio towards innovative and sustainable solutions, including R-PET, paper and carton, and pulp. Today, Carton Pack employs c. 400 employees across three production facilities and 15 distribution centers in Italy and Spain, serving over 1,300 customers across 40 countries globally.
21 Invest is a leading European private investment firm focused on investing in middle-market companies to accelerate their growth and enhance operational efficiencies. Based in Treviso, Italy and founded in 1992 by Alessandro Benetton, 21 Invest employs over 50 people across Italy, France and Poland. Since its foundation, it has raised over twelve funds and invested in over 100 companies (of which 25 currently in its portfolio) totaling revenue of more than €2bn.
A&M Capital Europe is a London based, operationally growth focused European middle-market private equity firm. Its Fund I currently manages €650 million of committed capital and is part of A&M Capital, the global multi-strategy private equity firm managing in excess of €3 billion of capital. The private equity firm has an association with Alvarez & Marsal consulting ("A&M") which enables access to the world class operational expertise of A&M's almost 4,500 consultants across A&M's 23 European offices and 65 offices globally.
Learn more about your industrial growth products investment banking expertise.