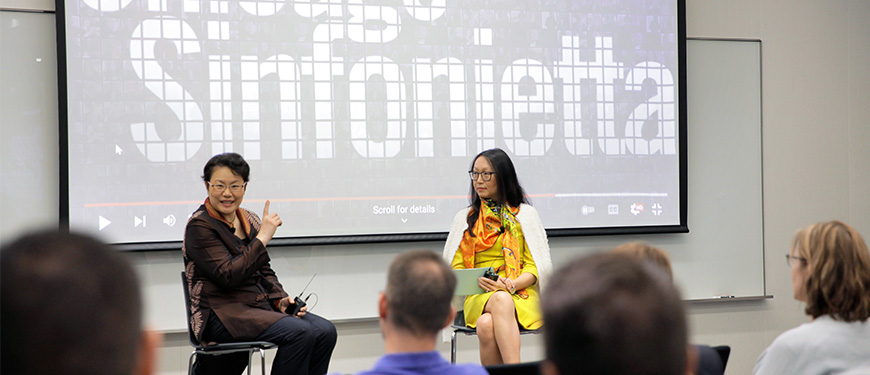 Taiwanese American conductor Mei-Ann Chen led a spirited talk with William Blair colleagues at the firm's Asian/Pacific American heritage month celebration on embracing cultural differences and the mission of the Chicago Sinfonietta, the nation's most diverse orchestra, which she leads.
Speaking in Chicago on May 25, Chen shared stories of her struggle to become a conductor in a field with few women or musicians of color. She is particularly proud of Chicago Sinfonietta's work of promoting diversity and inclusion through symphonic music and innovative programming for 35 years.
From tap dancing to Stravinsky's ballet The Firebird, collaborating with the Mucca Pazza marching band for a joint performance of the 1812 Overture to its annual Dr. King tribute concert and Project W initiative spotlighting diverse women composers, the award-winning Sinfonietta leads by example.
"Anything you can think of, we have probably done it," Chen told the gathering. "The orchestra is a very interesting enterprise. I am so proud to really champion for diversity through the work we do as an orchestra."
Honoring Asian and Pacific Islanders
William Blair's business resources groups ONE Alliance, which celebrates all cultures and ethnicities, and Women's Alliance, with a mission to empower women in the workplace, invited Chen to speak in honor of the generations of Asian and Pacific Islanders who have enriched America's history, culture, and achievements.
Born in Taiwan, Chen came to the United States to study violin as a teenager in 1989 but always dreamed of becoming a conductor. She earned double music degrees from the New England Conservatory and went on to the University of Michigan for her doctorate in conducting. But it took a few years and many rejection letters before she landed her first professional position as the music director for Oregon's Portland Youth Philharmonic.
In 2005, Chen became the first and only woman to win the international Malko Competition for Young Conductors held in Denmark. That helped launch her amazing career as a sought-after guest conductor around the world—conducting 20-25 performances a year alongside her role at the Chicago Sinfonietta.
Angels in Life
Chen acknowledges that success does not come easy. It takes an incredible amount of determination, passion, and, most important, a strong support system to get you through the tough times. It is especially difficult for women and musicians of color as orchestras are among the nation's least racially diverse institutions.
As a doctoral candidate applying for a professional music position, Chen received so many rejection letters that she almost gave up her life goal of becoming a conductor. But her family remained supportive.
"My angels in my life, my sister and brother-in-law, said you're so close to pursuing your dream, just hang in there," Chen said.
In remembering those years, she is a big advocate of Chicago Sinfonietta's Project Inclusion for young conductors—a fellowship that fosters the development of diverse and emerging conductors. Conducting fellows work closely with Chen over a year or two and have opportunities to conduct ensembles with Chicago classical music organizations.
The fellowship program was initially started in 2008 for diverse musicians by Sinfonietta's founding music director Paul Freeman to bridge the gap between finishing school and starting a career.
"A lot of people give up in that gap," said Chen, noting that since the fellowship was expanded for conductors nine years ago, it has helped launch the careers of nearly two dozen conductors of color into the world.
Taking on Risks
To be successful, it means being brave, at times taking on risks, she told William Blair colleagues, but those risks can be opportunities that pay off in the long run.
Chen recalled an amazing show that she designed and conducted in 2014 that featured a joint concert of the Chicago Sinfonietta classical orchestra and the Mucca Pazza punk marching band. The finale was a battle of the bands rendition of Tchaikovsky's 1812 Overture, choreographed with cheerleaders carrying pom-poms, Mucca Pazza band members in mismatched suits of varied colors, and cannons shooting out confetti in Chicago's Symphony Hall.
That performance resulted in the Chicago Sinfonietta becoming the first orchestra awarded with an artist grant of $625,000 by the MacArthur Foundation.
As a conductor, whether at home in Chicago or visiting another city, she believes the strength of an orchestra comes from giving musicians enough space to be themselves, so each member can contribute their creativity to the orchestra team.
"I'm trying to create a bridge," Chen said, "to bring that bridge between the audience and the stage closer. It takes all of us willing to say kumbaya, let's fly and take our audience with us. It seems to be working."