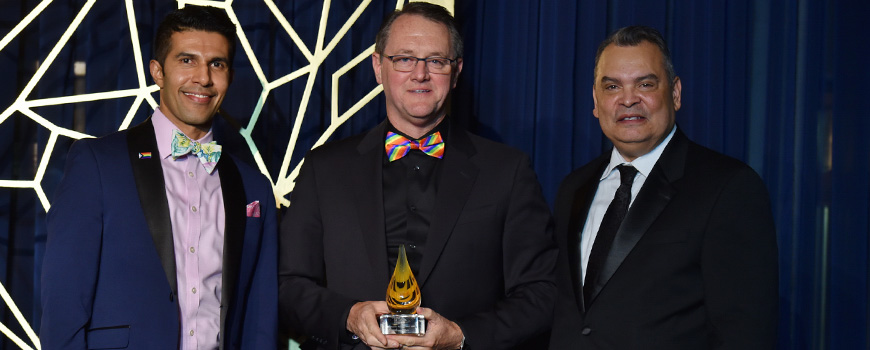 William Blair was honored to receive the 2022 Center on Halsted Community Spirit Award for its support of Chicago's LGBTQ+ community at the group's annual gala held on May 6.
The event marked the 15th anniversary of the Human First gala to benefit Center on Halsted, the most comprehensive LGBTQ+ center in the Midwest. Located in Chicago's Lakeview neighborhood, it offers music and dance programs, art exhibits, sports, and social services to secure the health and well-being of its members.
"We were proud to recognize the philanthropy, volunteerism, and advocacy of William Blair and its Pride Alliance business resource group through the years," said the Center on Halsted's CEO Modesto "Tico" Valle. "It is an honor to be able to continue that partnership with CEO Brent Gledhill, who was at our gala to personally accept the Community Spirit Award," he added, noting the distinction of William Blair's 100% rank in the HRC Corporate Equality Index in 2021 and 2022.
This was the center's first in-person gala in a few years, with over 650 people attending the benefit held at the Old Post Office in downtown Chicago.
Gledhill accepted the spirit award on behalf of the firm, thanking the center for the honor and its dedication of creating a thriving LGBTQ+ community by offering mental health support, job placement and training, and a safe community for its members.
"William Blair values the humanity, individuality, and worth of all people. Inclusivity is one of our core values and the Center on Halsted's mission of empowering, affirming, and supporting the LGBTQ+ community aligns perfectly with us," said Gledhill. "William Blair proudly receives the Community Spirt Award and commits to continue our legacy of support for the LGBTQ+ community across our firm, Chicago, and the world."
William Blair along with many colleagues has had a long relationship with the Center on Halsted. The firm's Pride Alliance business resource group, formed in 2017, has led colleague-volunteer events at the center, advocated for initiatives to advance inclusion and diversity, and supported the firm's gift-matching plan to advance the center's programing.
Gledhill, the executive sponsor of Pride Alliance since its inception, is a champion of the center's work, continuing the legacy of the late William Blair Executive Committee member Dick Kiphart.