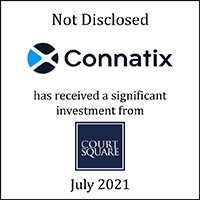 William Blair acted as exclusive financial advisor to Connatix Holdings, Inc. (Connatix), a portfolio company of Volition Capital LLC (Volition), in connection with its sale to Court Square Capital Partners. The transaction closed on July 14, 2021.
Transaction Highlights
Deep industry insights and unparalleled buyer relationships: Connatix and Volition recognized William Blair's domain expertise within adtech, video, and the broader internet and digital media ecosystem.
Trust-based relationship and guidance: Amidst extensive market interest, William Blair provided thoughtful advice to both Connatix and Volition in navigating each step of the process, including development of marketing materials, buyer education, facilitation of buyer diligence, and finalization of the sale.
Process and execution excellence: Thorough preparation allowed for the successful positioning of Connatix as the market's lone integrated solution capable of empowering digital publishers in a video-centric world. William Blair was able to expertly position the business and effectively communicate investment merits to a curated universe of buyers, ultimately finding a partner best suited to execute the next phase of growth strategy and yielding an exceptional outcome for buyers.
About the Companies
Connatix is the only end-to-end video platform for digital publishers, providing users with access to an expansive video content library, AI-driven content creation solutions, and next-generation technology that enable publishers to create, deliver, and monetize videos. The company's programmatic exchange and ad server equip the world's leading digital publishers with the means necessary for maximizing revenue in a video-centric world.
Volition is a growth equity firm focused on investment opportunities specific to founder-owned, capital-efficient businesses, providing tailored strategic and operational support to each company and founder. The firm seeks to invest across various sectors, including consumer products, digital marketing services, healthcare information technology, internet, mobile, telecommunications, retail, and infrastructure sectors.
Court Square Capital Partners is an independent private equity firm mandated to invest across the U.S. middle market with a primary focus on the business services, healthcare, general industrial, and technology and telecommunications sectors. Court Square Capital Partners has completed 235 plus investments over the past three decades with an unrelenting commitment to partnership and value creation.
Learn more about our technology services investment banking expertise.