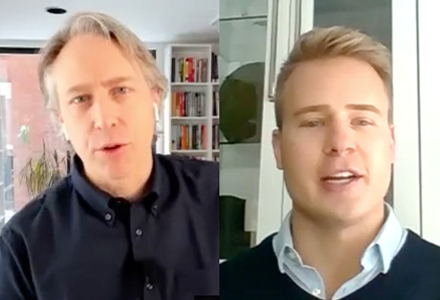 Innovation expert Luke Williams kicked off William Blair's 2021 Courageous Conversations series on February 3 with an energizing talk on thriving in an era of constant change.
Williams, who is director of W.R. Berkley innovation labs at New York University, challenged colleagues during a virtual gathering to "change the way you think about change."
Disruptive thinking will become more critical for businesses to succeed as the rate of change is faster than ever before, he said. Not only did the pandemic spotlight the value of disruptive thinking, but so did the technological advances that allowed companies to adapt and grow overnight. Williams often says disruption is the most direct way to innovate. If you don't innovate, you can't grow.
"When you are at the peak of your success, it is the same point you are most vulnerable to disruption," Williams said. "The strengths you have now become your liabilities."
Courageous Conversations nurture inclusivity
Courageous Conversations, launched in 2018, is a series of talks sponsored by the William Blair Alliance Board to expand the way we think and behave in nurturing an inclusive and diverse culture. Williams's message of embracing change and supporting colleagues' ideas resonated with the audience, which has experienced vast changes in growth and technology in recent years, especially during 2020.
Williams, an NYU professor of marketing and entrepreneurship, is a leading consultant, educator, and speaker specializing in disruptive innovation. He is the author of Disrupt: Think the Unthinkable to Spark Transformation in Your Business. For more than a decade, he has worked with companies in the U.S. and globally to develop new products, services, and brands.
Williams is a champion of economic growth through ideas that build on previous successes, what he refers to as continuity growth, while simultaneously introducing discontinuity—ideas that challenge dominant logic. By building a portfolio of alternative ideas and strategies, it allows businesses to test new ways to grow sales, connect with clients and colleagues, create products—so they will be better positioned for business shifts or disruptions they did not see coming.
Amazon, Google, and Uber, for example, embrace these counterbalancing ideas: exploiting current strengths while exploring alternative paths, Williams said. That essentially creates and nurtures a disruptive thinking environment. BlackBerry, on the other hand, has become an innovation case study of what can go wrong. It lost its leadership in the tech communications space by staying the course.
"There has been a lot of growth through continuity, meaning getting better at doing what we do," Williams added. "But it is very difficult to switch paths when suddenly circumstances change. With the accelerated pace of change, now when you need to make a shift to a new idea, concept, capability, you just won't be able to develop it in time."
Start-ups have an advantage because they are not constrained by legacy workflows and strategies, he said. But companies that have been around a long time also have clear advantages. They just have to be free to break from traditional thinking and rearrange things.
"Move away from only thinking about return on investment to putting an equal emphasis on return on learning, accelerating your learning with every new idea you're seeing and experimenting with," Williams said.
Becoming master chefs in a world of ideas
He used the analogy of cooking to drive home the point.
Things such as value propositions, clients, relationships with clients and colleagues, supply chains, cost structures, revenue models, are all ingredients that can be arranged in a multiple of ways to create wealth for the organization.
"It's your job to take those ingredients and seek a new arrangement that potentially makes them all valuable," Williams said. "I want you to think of yourselves as master chefs in your kitchen within your organization. Think about the world of things as the world of cooking and the world of ideas as the world of recipes. Economic growth over the next decade is going to come from better recipes not more cooking."
"Enjoy the possibilities," he adds. "Formulate new recipes."