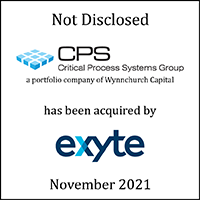 William Blair acted as the exclusive financial advisor to Critical Process Systems Group (CPS Group), a portfolio company of Wynnchurch Capital, in connection with its sale to Exyte. The transaction closed on November 1, 2021.
Transaction Highlights
Significant advisory expertise: CPS Group and Wynnchurch recognized William Blair's ability to design and manage an efficient process that delivered an optimal outcome while reducing the burden on management.
Extensive company and sector knowledge: William Blair previously sold the business in 2018 and was engaged without having to pitch.
Trusted Guidance: William Blair was engaged to navigate an inbound bid from a strategic buyer and drive competitive tension with a targeted outreach to a select group of additional strategics.
About the Companies
Critical Process Systems Group is a group of manufacturing and design companies providing innovative product solutions to the semiconductor, life science, high-purity chemical processing, gas systems, and wastewater industries. CPS Group provides a broad range of products and services including high purity gas and chemical blending and delivery control, pre-fabricated high purity process utility modules, corrosive fume exhaust duct, and airflow control devices.
Wynnchurch Capital, LLC is a leading middle-market private equity investment firm founded in 1999 and is based in the Chicago suburb of Rosemont, Illinois with offices in California and Canada. Wynnchurch Capital manages a number of private equity funds with more than $4 billion of committed capital under management and specializes in recapitalizations, growth capital, management buyouts, corporate carve-outs and restructurings.
Exyte engages in the design, engineering, and construction of high-tech facilities, plants and factories around the globe. It provides consulting and planning, design and engineering, project construction and management, equipment and services, and commissioning, qualification, and validation services for customers in the semiconductors, batteries, pharmaceuticals, life sciences, biotechnology, and data centers markets.
Learn more about our industrial growth products investment banking expertise.