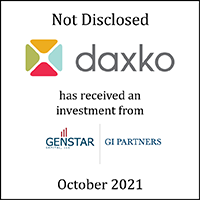 William Blair acted as financial advisor to Daxko, a portfolio company of GI Partners, in connection with an investment from Genstar Capital and GI Partners (GI).
Transaction Highlights
Software and integrated payments expertise: Both Daxko and GI recognized William Blair's unrivaled sector expertise across vertical software, integrated payments, and health & fitness software specifically. This deep experience allowed the team to best position Daxko as the clear market leader across the health and software ecosystem. Additionally, William Blair's extensive sector-specific knowledgehelped management demonstrate Daxko's resiliency throughout the COVID-19 pandemic and communicate Daxko's strong outlook for the future to potential buyers.
Unmatched buyer relationships, access, and insights: The transaction team's highly relevant and recent transaction experience with the most aggressive financial investors enabled William Blair to provide insightful, skilled process management, as well as a deep understanding of buyer priorities.
Execution and process excellence: The transaction team designed and executed a tailored M&A process with thorough and robust preparation from the onset to maximize process agility and flexibility, which enabled theteam to capitalize on significant buyer engagement. The thoughtful process design and execution drove an exceptional outcome for the shareholders.
About the Companies
Daxko delivers comprehensive technology solutions, integrated payment processing, experienced services, and deep insights to all kinds of health and fitness centers—enterprise health clubs, boutique fitness studios, affiliate gyms, campus recreation facilities, integrated wellness centers, YMCAs, and JCCs. Since 1998, the company has grown to serve customers spanning 55 countries, nearly 19,000 facilities, and over 25 million members.
Founded in 2001, GI Partners is a leading private investment firm with over 100 employees based in San Francisco, California, with offices in New York, Chicago, Greenwich, and Scottsdale. The firm has raised over $29 billion in capital from leading institutional investors around the world to invest in private equity, real estate, and data infrastructure strategies. The private equity team invests primarily in companies in the software, healthcare, IT infrastructure, and services sectors. The real estate team focuses primarily on technology and life sciences properties as well as other specialized types of real estate. The data infrastructure team invests primarily in hard asset infrastructure businesses underpinning the digital economy.
Genstar Capital is a leading private equity firm that has been actively investing in high quality companies for over 30 years. Based in San Francisco, Genstar works in partnership with its management teams and its network of strategic advisors to transform its portfolio companies into industry-leading businesses. Genstar currently has approximately $33 billion of assets under management and targets investments focused on targeted segments of the software, financial services, industrials, and healthcare industries.
Learn more about our technology investment banking expertise.