Two sell-side transactions that William Blair completed for technology companies were recently named Deal of the Year for 2018. Mergers & Acquisitions named Fortive's $775 million acquisition of Gordian as the Deal of the Year for the Middle Market, and The Deal named Trimble's $500 million acquisition of e-Builder as the Deal of the Year.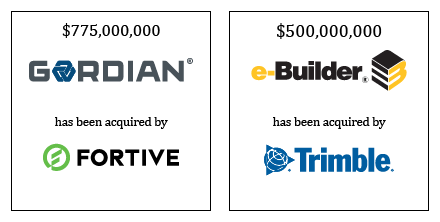 The awards highlight the remarkable momentum of William Blair's premier technology investment banking franchise, which comprises more than 85 technology-focused bankers around the world. The success that we have achieved for our technology clients has resulted in:
80+ technology M&A transactions, totaling approximately $40 billion in value, since 2017
Median EBITDA multiple of 23.3x for our sell-side technology clients since 2015
54% of our sell-side technology transactions in 2018 involved strategic buyers
56% of our transactions across the firm involved repeat clients in 2018
The acquisitions of Gordian and e-Builder, two leading construction software companies, by publicly traded global consolidators showcased several of the characteristics that are essential to successful sell-side advisory in a highly competitive market for leading technology companies:
Depth of expertise in high-growth technology verticals: William Blair has completed over 90 software transactions since 2014 and has built deep expertise in other technology verticals, including infrastructure and cybersecurity, fintech, IT services, healthcare IT, and Internet and digital media. As technology continues to converge with every sector and the lines between technology verticals blurs, our experience across all of these areas is increasingly valuable for our clients.
Access to global technology consolidators: In addition to Trimble and Fortive, William Blair has recently completed transactions involving many of the world's most active strategic buyers, including Cisco, GE Healthcare, Google, Hitachi, IBM, Oracle, and Roper.
Relationships with technology-focused financial sponsors: Over the last five years—a timeframe that represents nearly 150 completed technology M&A transactions—we have sold technology companies on behalf of 110 different private equity funds and our buyer universe includes 50 different funds. More importantly, we have been rewarded with repeat business by many of the most active financial sponsors in technology.
Learn more about William Blair's premier technology franchise and see a list of recent transactions.