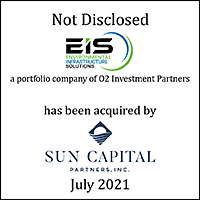 William Blair acted as the exclusive financial advisor to EIS Holdings in connection with its sale to Sun Capital Partners. The transaction closed on July 16, 2021.
Transaction Highlights
Deep relationships and sector expertise: William Blair's extensive knowledge and experience in the commercial services space, along with the firm's strong relationships with the most likely and aggressive financial and strategic buyers, were key considerations in EIS and O2 Investment Partners engaging William Blair.
Successful positioning and execution excellence: William Blair designed a highly effective and efficient process focused on upfront preparation. Thoughtful positioning of EIS' proven market leadership, the mission-critical nature of the company's services, and the highly compelling regulatory and market tailwinds, were pivotal in generating strong buyer interest and optimizing value.
Trusted M&A guidance and process excellence: William Blair worked closely with management and O2 throughout each step of the process, providing tailored strategic guidance, relevant buyer and market insights, and thoughtful process tactics and strategy, resulting in an exceptional outcome for shareholders.
About the Companies
EIS is one of the largest providers of mission-critical environmental and infrastructure services in the United States, serving a wide variety of public and private end markets. With over 750 employees and 24 offices, EIS performs a full suite of abatement, decontamination, remediation, and other environmental and specialty infrastructure services across the United States.
Sun Capital Partners, Inc. is a global private equity firm focused on partnering with outstanding management teams to accelerate value creation. Since 1995, Sun Capital has invested in more than 425 companies worldwide with revenues in excess of $50 billion across a broad range of industries and transaction structures. Sun Capital focuses on defensible businesses in growing markets with tangible performance improvement opportunities in the Business Services, Consumer, Healthcare, Industrial, and Technology sectors with offices in Boca Raton, Los Angeles and New York, and an affiliate with offices in London.
O2 Investment Partners is a Midwest-based private equity firm that seeks to acquire majority interests in lower middle market B2B services, technology, and select niche industrial companies. The firm invests in businesses with earnings growth potential and a clear path to the creation of shareholder value. O2 invests with a view toward partnering with management to build and grow the business and take it to its next stage of development.
Learn more about our supply chain and commercial services investment banking expertise.